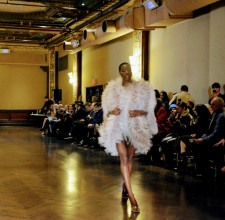 Couture Fashion Week New York Special Events is pleased to present an evening of fashion, style, glamour and entertainment during the holidays. This will be one of New York's most unforgettable events of New York Fashion Week's top producers.
New York City - New stork Fashion Week will be presenting the latest and stunning couture collections by award-winning designer, Andres Aquino. The exquisite jewelry designs along with special surprises will be present and the name Himawari Diamond by Nhat Linh.
Musical performances are on the schedule to mesmerizing the evening by N'Kenge, Cecilia Herrera, Yola Nash, Alexander Hrabova with Daria Hrabova, singers, Katarzyna, Mia Wallace, dancer, Earthly Augustin, and model, Janel Tanna.
VIP guest will be offer backstage tours and dinner at a nearby restaurant with the producer, designers, and other VIP guests.
Tickets are non refundable for this event and range USD $100 to $899
Share: