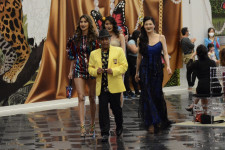 Equal Rights For Children, a non-profit organization, by founder Amadeus NGELA, is proud to partner with Couture Fashion Week Founder, Andres Aquino in his 37th Season of luxe designs on a runway show. The partnership purpose is aimed to introduce awareness to New Yorkers regarding legitimate pregnancies injustices to children born out of wedlock.
Manhattan, NY - ​Luxe Designer, Andres Aquino will come alive again on the runway for the 37th Season of Couture Fashions at the Prince George Ballroom on February 4th - 5th, 2023. Special guests appearances by Marisol Henrique and Geraldine's Couture will kick off the event on Saturday night, along with casts of Harlem's Heaven Hats.
​On February 5th, 2023, more fashion and sponsors of this event will include performances by Olga Alexandrova, Jump Dance Studio Dancers along with designers Sarasty, Majid Desire, Yans Creations by Yani Bakhtiar, and Elcy Cortorreal, Lourdes Atencio.
Tickets for the shows of stories can be purchased on the www.couturefashionweek.com schedule.
Share: