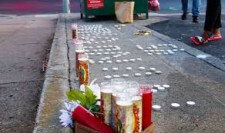 In remembrance of Javonte Prothro, 29, murdered in Richmond, California, at 1025 S. 47th Street, on September 19, 2016, Wilson & Kratzer Civic Center Chapel, Richmond, California will celebrate his Legacy to comfort all who has lost a loved one to Gun Violence. An array of tributes/sympathy legacies designed to promote Social Media Public Relations has been set up to express your thoughts by sending flowers, pictures, recording voices, and signing guest book, or lighting a candle is available.
Richmond, California ~ Javonte Prothro grew up in Richmond, California and later became a resident of Hercules, California, where he attended high school. The untimely death of this single father of two is being celebrated by a shower of tears in the framework of Photo Shoot memories. As a result of Javonte Prothro's death and under the circumstances for which and how it happened (geolocation tracking), memorial contributions will be marked as a fundraiser for Javonte Asean Prothro to share your love and support for his family on a continum. The business results of record creations from your gifts will drive laws under the Memory of Javonte Prothro, whose voice and legacy dates back to 2004, when he advocate for Justice by saying "It Isn't Real Little," "We Didn't Understand The Sounds" and "Who Killed All The Fish," stemming from a selfless act of heroism to save his Auntie, Denise Fitzgerald.
Join the Prothro Family in their celebration of love on Thursday, at:
Wilson & Kratzer Civic Center Chapel
455 24th St
Richmond, CA, US, 94804.
Share: