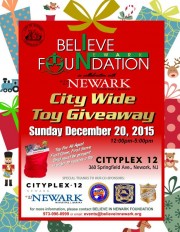 Event
•
updated: Dec 10, 2015
Mayor Ras J. Baraka and "Believe In Newark Foundation" will partner with the CityPlex 12 Theater, Sunday, December 20, 2015, from Noon to 5 p.m., at 360-394 Springfield Avenue, in the City's Central Ward for a City Wide Toy Giveaway. The Believe in Newark Foundation, Inc. has also partnered with the Hispanic Law Enforcement Association of Essex County, the Vulcan Pioneers, and Newark Bronze Shields to participate in the collection and distribution of toys to Newark youths.
Newark, NJ -- The "Believe In Newark Foundation, Inc." is a non-profit 501(c)(3) community organization whose main agenda is to cultivate an agenda for Newark youths, senior services, and hardworking individuals. Their mission according to Executive Director, Shavon Harris, is to provide resources, technical assistance and foster a greater giving to the Newark residence through collaborations with community partners. The Believe in Newark Foundation, Inc., was founded in 2014, by community leaders, to work to cultivate the non-profit community throughout Newark. Improving literacy, quality of life, youth development, and recreational services is the mission of the organization. And as a part of giving this year, the City of Newark has partnered with all to collect and donate new, unwrapped toys for Newark youth in attendance of all ages. Children will receive donated gifts in bags inside of the theater along with the new Shop Rite of Newark, who will be providing free refreshments.

"At this festive season of the year for so many peoples and faiths, we are excited to bring holiday joy to Newark youth by giving away free toys at the City Plex 12 Theater, working with the Believe in Newark Foundation, our law enforcement association partners, and Shop Rite to do so," said Mayor Baraka. "As a Newark father, I know the special look on a child's face as he or she gets that holiday toy or game. As Newark's Chief Executive, I know that a partnership like this brings our City together as a community, and helps us to transform Newark into a City we can all believe in. I look forward to greeting my neighbors at this event."
All Newark residents can donate toys up to and including December 20, by delivering them to the theater, where they can put the toys in boxes.
Share: