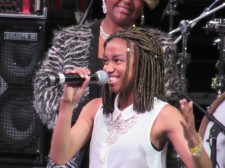 The Gospel Celebration begins again this year on May 7, 2016. The theme of this year's competition is entitled "Honor Thy Mother" and the competition originated in 1983 under the auspices of the McDonald's Corporation and the McDonald's New York Metro Owner/Operator Association. This year's competition will be even more intense and creative than last year.
Newark, NJ ~ The McDonald's Gospelfest 2016 Competition began inside of one of the McDonald's New York Metro Operations during regular business hours for the public to enjoy. The sounds of Gospel music originated in the 1860's and was associated during the slave narrative era when copyrighting began trending with Black Owned Language. When Slavery was abolished for the African American, Negro Spirituals constituted one of the largest significant forms or platforms for American folk song.
According to the Library of Congress, African American Spiritual's were sung in a call and response form by Singers who provided refrainments to free form freedoms. Freedom songs (as they are referred too), were the basis for Black struggles to voice their democracy in the United States and abroad. Today, Curtis Farrow is back with a new spiritual tradition entitled "Honor Thy Mother" to create a new protest of songs to compete for awards and scholarships within the global community to educated our next generation under the era of redemption and the "Story of Song."
The competition begins on May 7, 2016, at the Prudential Center, located at 25 Lafayette Street, Newark, NJ, at 4:00 pm. Shortly following the competition at 6pm will begin the live concert event featuring Yolanda Adams, Donnie McClurkin, Tamela Mann, Bishop Hezekiah Walker & LFC, Shirley Caesar, Tye Tribbett, Karen Clark Sheard and From the original broadway Cast of Dreamgirls, Jennifer Holliday.
Share: