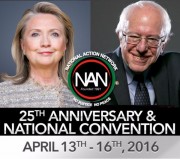 Rev. Al Sharpton, Founder, of the National Action Network is hosting their 25th Silver Anniversary National Convention in New York City, NY April 13-16th, 2016. Official registration is still underway to attend or sign up as a delegate for action. All pertinent details regarding this powerhouse of forward-thinkers can be found at the following website: www.nationalactionnetwork.net or by calling 877-626-4651.
New York City -- Rev. Al Sharpton, Founder of the Defendant National Action Network will be celebrating 25 years on the forefront fighting for justice and equality for all who deserve it. The mission of the Network is to promote the principles founded by Dr. Martin Luther King, Jr. to challenge the Evils of POVERTY, RACISM AND MILITARISM in the forms of violence as it exists today. The First Amendment lists "The American Model" as Enlightenment thinkers who's souls are like blank cupboards ready to be filled due to the conditions of unemployment, homeless, hunger, malnutrition, illiteracy, infant mortality, and slum "ghetto" neighborhoods. When racism sets into King's equation of Evils, prejudice, apartheid, ethnic conflict, anti-Semitism, sexism, colonialism, homophobia, ageism, discrimination against disabled groups, and stereotypes the American Model under the First Amendment states to engrain the Declaration of Independence as it relates to one's liberty, property, and life.
The philosophy of racism under the American Model for delegates at the National Action Network is a non-violent spiritual journey that sometimes gets confused with religious institutions within advocacy circle that needs definition. So to enjoy the rich history and Silver journey this year, the Rev. Al Sharpton will be hosting the 25th Silver Anniversary at the Sheraton Times Square NYC, located at 811 7th Avenue, W 53rd St, New York, NY 10019.
Share: