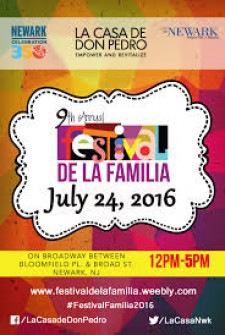 Mayor Ras J. Baraka, Municipal Council members, deputy Mayor of Community Engagement Jacqueline Quiles, Newark Celebration 350, and La Casa de Don Pedro on of Newark's premier community based social service and community development organizations, will host the 9th Annual Festival de la Familia, Sunday, July 24th from Noon to 5 p.m. on Broadway between Bloomfield Place and Broad Street, in Newark's North Ward, on the Lower Broadway commercial corridor.
Newark, NJ ~ The City of Newark and La Casa de Don Pedro will host their9th Annual Festival called "De La Familia" on Sunday, July 24, 2016. Each year, La Casa de Don Pedro and the City of Newark partners to broadcast support for their Social Service activities to their participants as a way of giving back to the community. Volunteers will work around the clock with several other unnamed organizations to make this event a success. Face painting, sand art, food demonstrations, wacky hair and much more will be available to the young and old along with games and activities.
This year's carnival theme will also offer rides, an inflatable obstacle course, dunk tank, mini golf, arts & crafts, food tastings, and other family-friendly activities to enjoy. Key community stakeholders, non-profit and community organizations will provide free health screenings, resources, and other information. A Voter Registration drive will also be held at this event!
Entertainment for this event will include music by DJ Francisco Morales, cultural performances by Yahaya Kamate African Dance and Drums Group, Plena Dulce, NJPAC Hip Hop Dance Group, a Peruvian dance group, and Ruben Figueroa's Ritmo Tropical. If you would like more information about Festival de la Familia, including the day's line-up of performances, visit www.festivaldelafamilia.weebly.com.
Festival de la Familia is made possible by support from the event sponsors: Newark Celebration 350; TD Bank; M&T Bank; Rutgers University- Newark; Valley National Bank; JP Morgan Chase; PSE&G; Atlantic Federal Credit Union, North Jersey Federal Credit Union, United Healthcare, Horizon NJ Health; CarePoint Health; Lower Broadway Neighborhood Association.
For more information on the City of Newark, please visit our website at www.ci.newark.nj.us
Follow us on Twitter: www.twitter.com/cityofnewarknj
Share: