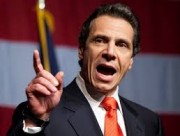 News
•
updated: Sep 20, 2015
Governor Andrew M. Cuomo announced to the congregation at the Mount Neboh Baptist Church that 96 notable clergy members from across that state will join the Mario Cuomo Campaign for Economic Justice. The statewide campaign initiative is aimed at building support for minimum wage workers to earn $15 dollars per hour in New York State.
Governor Andrew Cuomo spoke to the congregation at the Mount Neboh Baptist Church today about the importance of earning a decent salary to take care of a family in New York City. Raising the minimum wage in 2018 to $15 dollars an hour has been supported by today's clergy members in an effort to grow the Mario Cuomo campaign to support Governor Cuomo.
Governor Cuomo stated, "By raising the minimum wage, we're asking for fairness, equity and justice to ensure a decent living for all New Yorkers." "We are going to get this done and then say to the rest of the nation - look at the Empire State for what is fair, for what is just, and for what it takes to make the strongest community."

Further information on the Governor's proposal for a $15 statewide, all-industry minimum wage is available here. In addition to today's clergy members, 30 prominent civil rights groups and leaders have also joined the campaign.
The 96 clergy members joining the campaign today include:
Pastor Reverend Floyd H. Flake, D. Min., The Greater Allen A.M.E. Cathedral of New York
Pastor Wilbert

Dorilus

, All Saints Church of God

Westbury

Reverend Lorraine

Madry

, Franklin Outreach Ministries the Church Without Walls
Reverend Antoine

Asse

, Church of God of NYC
Pastor Pierre Windsor Joseph,

Eglise

de

Dieu

de

Baisley

Pastor Basil McPherson,

Bushwick

Family

Ministires

Church Church of God of Prophecy
Reverend Jean Romulus,

Horeb

Christian Alliance
Reverend Leonard

Comithier

, Jr., Macedonia Baptist Church
Elder McKinley Johnson, St. Johns COGIC (Note: Johnson is also President of The Albany African American Clergy United For Empowerment)
Executive Director Mark Cass, Alliance of Communities Transforming Syracuse (ACTS)
Pastor George

Dailey

, Prayer House Church of God By Faith
Reverend Fannie

Etheridge

-Reeves, Power House Church of God in Christ
Elder Willie

Lightfoot

, Prayer House Church of God By Faith
Reverend Carl McCray, Church of Faith
Imam Al-Hajj

Talib

'

Abdur

-

Rashid

of The Mosque of Islamic Brotherhood
Rabbi Joseph

Potasnik

, Executive Vice President of the New York Board of Rabbis
Pastor Robert Miller,

Aenon

Missionary Baptist Church
Reverend Alan Newton, American Baptist Churches of the Rochester

Genesee

Region
Rev Leon

Durpee

, Lily of the Valley Church of God in Christ
Reverend Lewis Stewart, United Christian Leadership Ministry
Pastor Troy DeCohen, Mt. Vernon Heights Congregational Church
Reverend Lamont S. Granby, First Baptist Church of Bronxville
Reverend Darren Morton, Macedonia Baptist Church
Reverend Lamont Granby, First Baptist Church
Reverend James Hassell, Beulah Baptist Church
Reverend Dr. Allen Paul Weaver, Bethesda Baptist Church of New Rochelle
Reverend Ed Mulraine, Unity Baptist Tabernacle
Reverend Kirk Lyons, St. James United Methodist
Reverend/Senior Pastor Charles Coverdale, First Baptist Church in Riverhead
Reverend Roderick Pears, St. Mark Remnant Ministries Inc., located in Central Islip
Reverend Nebraski Carter, Pastor of Living Church of God in Christ
Pastor Vernon Shelton, Holy Trinity Baptist Church in Amityville
Father John Jeffreys Purcha, St. Andrew's Episcopal Church in Yaphank
Bishop Frank White, Zion Cathedral
Bishop Lionel Harvey, First Baptist Cathedral of

Westbury

Reverend Frantz Metellus, Gateway Christian Center
Reverend Emmanuel

Asse

, Christian Gateway Church
Pastor Eliezer Reyes, Church of God Hempstead
Pastor Carlos Sorto, Centro Cristiano Renacer
Pastor David Yussif, Casa del Alfarero Church
Reverend W. Franklyn Richardson, Grace Baptist Church
Reverand Maria Scates, Johnson Park Center
Reverand Michael Catanzaro, The First Presbyterian Church- Canton
Father Steve Murray, Holy Family Church
Reverend James Barnwell, Clergy United for Community Empowerment
Pastor John Boyd, New Greater Bethel Ministries
Reverend Dr. Les Mullings, Church of the Nazarene
Bishop Charles Norris Sr., Bethesda Missionary Baptist Church of Jamaica
Reverend Patrick Young, First Baptist Church of East Elmhurst
Reverend Glibert Pickett, Mt

Horeb

Baptist Church,Corona,also Moderator, Eastern Baptist Association
Reverend Maggie Howard, Stapleton UAME Church
Pastor Jose Quinones, Spanish Missionary Baptist Church
Reverend. Dr. Raymond Rivera, President and Founder, Latino Pastoral Action Center, Inc.
Reverend Angelo Rosario, Bronx Clergy Taskforce
Pastor Peggy Smalls, Change A Life Ministries
Reverend Al Sutton, Friendly Baptist Church
Reverend Herbert Daughtry, House of the Lord Church
Bishop Orlando Findlayter, New Hope Christian Fellowship
Pastor Gil Monrose, Mt Zion Church of God (7th Day)
Reverend Robert Waterman, Antioch Baptist Church
Reverend Johnny Green, Mt Nebo Baptist Church
Reverend Lisa Jennkins, Saint Matthews Baptist Church
Reverend Victor Brown, Mt. Sinai Church
Reverend Terri Troia, Project Hospitality
Pastor Reverend Ron Wenzinger, Sara Jane Memorial United Methodist Church
Reverend Dr. Anthony Evans, New York State Police Juvenile Officers Association, Chaplain
Reverend Rick Huber, United Christian Advocacy
Reverend Gerard LeFeber, Olean area Lutheran churches (retired pastor)
Reverend Timothy Miller, Gerry United Methodist Church
Reverend Frank Torrain, Open Door #3 Church of God in Christ
Reverend Maria Jones, Emmanuel Baptist Church of Jamestown
Pastor Adam Rohler, First Covenant Church
Reverend Mark Blue, Second Baptist Church
Reverend Will Mebane, Jr., St. Paul's Episcopal Cathedral
Pastor George Nicholas, Lincoln United Methodist Church
Reverend Darius Pridgen, True Bethel Baptist Church
Reverend Thomas Yorty, Westminster Presbyterian Church
Reverend Dr. William Wilkinson, Trinity Emmanuel Presbyterian Church
Bishop Derrick Owens, Christian Science Church
Reverend Julius Walls, Greater Centennial A.M.E. Zion Church of Mt. Vernon
Reverend Ron Tuncali, Hudson Valley Christian Church
Reverend David Mason, Union Presbyterian Church of Newburgh
Reverend Robert Bolton, One Accord Christian Church
Reverend David Hondorp, Reformed Dutch Church of Poughkeepsie
Reverend Leroy Nole, Second Baptist Church of Middletown
Reverend Victor Dyman, Middletown Seventh-day Adventist Church
Reverend Dr. John Stevens, Fountain of Life Church of God
Reverend John Warfel, Grace Episcopal Church of Middletown
Executive Director Slavik Joseph, Catholic Charities--Diocese of Syracuse
Reverend Frank Damis, St. Joseph's Parish of Kingston
Reverend Erica Baron, The Unitarian Universalist Congregation of the Catskills
Reverend Renee House, First Reformed Protestant Dutch Church of Kingston
Associate Rabbi Uri Tzedek, Hebrew Institute of Riverdale
Reverend Demetrius Carolina, Central Family Life Center
President Mendy Mirocznik, Council of Jewish Organizations
Reverend Tony Baker, St. Phillips Baptist Church
Share: