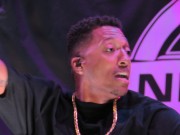 The 2015 BET Free Fan Fest held an event called "Music Matters" for those Christian-rooted Fans whose beliefs are driven by movements of activism today. Although there was an event called "Black Lives Matter" that was cancelled by Reverend Al Sharpton on June 27, 2015, the "Music Matter" event told the story of why "The Black Church" rooted in music delivers a message.
Dee-J, a former school teacher, began to tell his story of why music is important to youths today. Dee-J's electrifying performance involved engaging the Fans by jumping into the crowd to become culturally connected. The message was crisp and to the point on why education is a must for youth today.
Audio-Push also reminded the audience about childhood experiences through messages delivered by their moms. A hater is someone that wants to be like you but success makes them better. Through music, dreams will always be fulfilled by movements, messages, art and culture for the "Black" community. And to prove why engaging with Audio-push, one of the members jumped onto a large speaker to deliver his message
Andy Mineo, a White rapper with glasses out of New York City is from the record label Reach Records and is also a songwriter, minister, and record producer also known as "C-lite." Andy's ministry is told through music and why Christianity is important to the "The Black Church" today as he has numerous collaborations including "Lecrae." Andy engaged with the California Fans on the Floor as if a personal message was being delivered by God.
Lecrae, an American Rapper, stole the show during Music Matters. A spiritual fulfillment was made by this Billboard Award performer. Chains, clothes, records from when he was a little child, all drew importance in an unforgettable message that made even me stop to ask "what is his name?" A special tribute to all of the lives lost during Police Misconduct (Trayvon Martin, Freddie Gray, Tamir Rice, Michael Brown) was recognized and explained by one of his female backup singers to the Fans. Lecrae later engaged more with the Fans with a Meet & Greet session for a dream come true BET Experience only at the L.A. Live, Los Angeles Convention Center, California.
Lecrae will be going on tour starting tomorrow July 30, 2015. You can purchase tickets to this powerful Social Justice performer at www.lecrae.com.
Share: