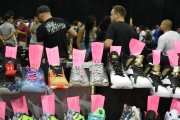 News
-
updated: Jun 29, 2015
The 2015 Black Entertainment Television presented its annual Free Fan Fest Experience for thousands from around the world at the Los Angeles, California Convention Center. Amongst the list of various media events was what is known as #SneakerCon that premiered celebrity brands and all other sneaker brand products that compliment art of the holy grail. Sneaker Con became famous due to blog publications.
One might ask what is a Sneaker Con? The answer for most in the Los Angeles area would be #ShoeSelfie. Or the Holy Grail of Sneakers. Or perhaps, the connoisseurs of fashion footwear on the market. Whatever the answer is or means to you, Sneaker Con is world famous and has launched its tour out of Washington, DC this April for all you boys and girls that love style.
All walks of life travel to support small business owners and larger business owners on acing customs and styles that attract one's eyes to your feet. Sneaker Con is a traveling event that began its tour back in September 2014 (estimated) by its founder, Michael Jordan (http://jordandaily.com). The "kicks" as most kids know was built from the world famous Black basketball player to sell and trade authenticity​ based upon their cultural divine. Because Michael Jordan paved the way, plenty of vendors can now negotiate their prices using a ticketed admission.
If you missed the 2015 FREE Fan Fest Experience Sneaker Con, you will have to pay for the next event on July 25, 2015, at the Jacob Javits Center in New York City. Tickets are priced around $30.00 and can be found at http://sneakercon.com
Share: