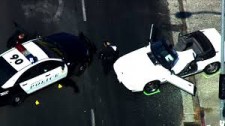 News
•
updated: Sep 23, 2016
The City of Richmond Police Department sends out a statement of appreciation in the arrest of Javonte Prothro, 29, who was fatally shot on Monday, September 19, 2016, at the BayView Fish Market, located at 1025 47th Street, Richmond, California. Dawaun Rice, 19, of Richmond, was arrested in Vallejo Wednesday in connection with the Monday morning fatal shooting to steal the life of a single father of two, Javonte Prothro, 2. The Contra Costa County prosecutors have charged Rice with the murder.
Richmond, California ~ According to reports, just before 11 a.m. the morning of the fatal shooting that led to man killed, identified as JaVonte Prothro, 29, of Hercules, California, police were called to the scene at 1025 S. 47th Street. A 29-year-old man was "slumped over in his car" and could not succumb to his gunshot wounds. A team of detectives partnered with the community to identify Dawaun Rice, 19, of Richmond, as a suspect in the murder. Special thanks also go out to city photographer, Christian Wimmer, for arriving at the scene to assist police in the identification of the victim as JaVonte Prothro, 29, of Hercules, California.
A community demand in the murder of JaVonte Prothro, along with Otilio Martinez who was also fatally shot the night of September 19, 2016, was formed. Possible suspects in the shootings in Oakland, California on the 2600 block of 23rd Avenue, leaving one man dead and another hospitalized Wednesday is also included to the demands on a Facebook Page designed as "Remembering Javonte Prothro" to spark media demands for politicians, community advocates, mental health resource needs, and President Obama to bring their voices out in support of the police to "Stop The Violence." Too Many Are Lost! A video was released Thursday, by the community to close the "Streets" evidenced by the name "NuNu" for the historical traditions linked to the victim.
A Celebration burial for the deceased JaVonte Prothro, 29, single father of two in the arrest of Dawaun Rice, 19, is scheduled next Friday. A GoFundMe (https://www.gofundme.com/2qb5im4) account has been set up for family support in Remembrance of the name JaVonte Prothro, also known as "NuNu" by the community.
Share: