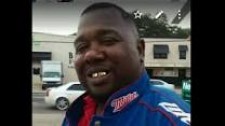 Chief of Police, Carl Dabadie of Baton Rouge Police Department releases a chilling video of a man, Alton Sterling, 37 years old, being detained and shoot on video at 12:35 a.m., July 5, 2016. The uniformed officers responding to the scene of 2112 North Foster Dr., Triple S Food Mart, over a disturbance call, complained about a Black man selling music cd's wearing a red shirt who threatened the convenience store worker with a gun.
Baton Rouge, Louisiana ~ According to the Second Amendment of the Constitution a well-regulated militia, being necessary to the security of a free state, the right of the people to keep and bear arms, shall not be infringed. Unfortunately, for Alton Sterling, 37, the two officers captured on Social Media detaining Mr. Sterling over a disturbance call, made contact with ALTON STERLING, of 6061 Plank Rd, on July 5, 2016, to discover him in a parking lot to referee possible unlawful music cd sells. Unsure of Mr. Sterling's intent, the two Baton Rouge Officers began to subdue Mr. Sterling which led to an altercation ending in an interfered death after Sterling was shot by police over a possible gun shout out unconfirmed.
The video has sparked social media protesters and is now drawing national attention. According to Baton Rouge, Louisiana, Sterling, who died at the scene, the report is being investigated for the 911 caller who stated a Black man with a possible gun as a threat to a business owner is dangerous. The Two Baton Rouge Police Department Officers have now been placed on administrative leave per standard procedure until an investigation has been conducted.
Share: