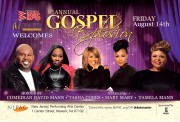 Let God flow through you and touch your heart as the explosion of gospel ministry takes control of your mind. The doctrine of the Holy Spirit is never misunderstood when it is associated with Black Nativity and the creation of powerful gospel written works using Praise & Worship. WLIB's 1190 AM & WBLS 107.5 FM and marketed by SJ Presents, Inc. delivers inspiration to the community of Newark, NJ.
Review: WLIB's 1190 AM is nationally know for broadcasting stars like the Reverened Al Sharpton, Bishop Hezekiah Walker, Yolanda Adams, Morgan Dukes, Donnie McClurkin, and Dorinda Clarke-Cole. What WLIB 1190 AM along with WBLS 107.5 FM is not known for is ministering the Gospel
in open forum with an explosion of comedy, storytelling, gospel dancing, and holy spirit oneness expression you do not hear while listening in the privacy of your home. If you need to repent (Acts 2:38), then everything was available to you during Friday night's show except for the baptismal method.
David Mann, as known as "Mr. Brown" from the hit comedy show ​Meet The Browns, ​hosted New Jersey Performing Arts Center (NJPAC) presentation of Gospel Explosion with a list of comedy skits from the Black Church on the do's and don'ts of religious integrities as a reminder to why a church grows from vitality. And as each performer took stage, Tasha Cobbs, Mary Mary, and Tamela Mann the ministry of gospel was equipped with service using genetic codes equipped for the audience
to praise God.
If you have not attended a Gospel Explosion or if you are not a Behaved Christian according to God's grace make sure you purchase tickets for the next performance to enhance your practical knowledge through worship in a ministry of explosion that teaches one to exhort your gifts
of liberation for Gospel is a movement not a politic decision.
Share: