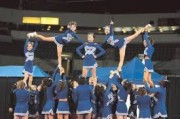 News
•
updated: Oct 16, 2015
The City of Newark will be hosting the event "Newark Pop Warner Cheer Competition, Saturday, October 17, 2015, at 12 noon, at the Malcolm X Shabazz High School Athletics Complex, 80 Johnson Avenue. Pop Warner football originated in 1929 by Joseph J. Tomlin with over 250,000 youths participating in football, cheerleading, and dance programs within 43 U.S. states and countries worldwide.
Newark, NJ -- The City of Newark will host a Pop Warner Newark youth cheerleading competition this Saturday, October 17, 2015, for participants to learn performance and dance techniques. The goal to compete in dance as appose to football is to acquire a life skill needed in competition programs to promote winning teams to go on to regional competitions.
Pop Warner cheerleading originated in the 1970's, as a Spirit Program and has been a part of the Pop Warner Football program for over 40 years. With 180,000 children participating in cheerleading and dance today, kids have an opportunity to perform become leaders using the skills taught about competitions. As the program grew in popularity over the years due to sports, new techniques in cheer and dance was introduced to form unique Pop Warner Spirit Squads.
Pop Warner has guidelines to follow and a complete list of rules can be downloaded at http://www.popwarner.com/forms/rules.htm.
A 2015 Pop Warner National Cheer & Dance Championships will be taking place after Saturday's competition held at Malcolm X Shabazz HIgh School Althetic in Newark
Share: