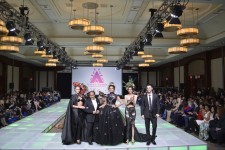 Andres Aquino's presentation of the "Belle of the Ball" Fall 2017 Fashion Collection was to promote the most beautiful girl in the room. A real Cinderella experience does not begin with transformation, it begins with promoting the story and meaning of the right shoe on the right beauty.
Manhattan, NY - Promoting the new Luxury Beauty Product Line by Andres Aquino for the 25th Season of Couture Fashion Week, Andres Aquino, Producer/Designer/Photographer, launches his new elite luxury facial beauty product line to promote the Cinder story of non-abuse in the United States. Women of all walks of life continue to ignore the real, rare, hidden behaviors of abuse and on a National level of who is the victim. It is important to STOP the violence against women no matter who it is today because forensic reporting is a major concern within the Tribal governments under Indian Health Services and regular parties. Without proper reporting or continuous cases of negligence, no one will ever appreciate the pure essences of thought or beauty within a Fashion Equality world except for Andres Aquino.
Unisex fashion trends, Dance Ensembles, R&B jazz/soul singers, Asian dance movements integrating Tango, and advocating social change using drums are all languages that reflect the importance of one's experience on what the story Cinderella means within their heritage. For Andres Aquino, his story is worth 1,000 words and tomorrow his story will be available to you on Zee Entertainment Television, partner to the Couture Fashion Week 25th season, entitled "Belle of the Ball" (USA). Bravo! Once again to brilliance well presented in none other than a Fashion Collections Industry for change.
Share: