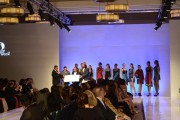 News
•
updated: Feb 14, 2016
World Renowned Fashion Icon, Andres Aquino, producer of Couture Fashion Week announced a new partnership with Nepal Tourism yesterday at the Crowne Plaza Times Square Manhattan. Mr. Aquino is world famous for his natural beauty illuminations within his prestigious productions at Couture NY Fashion Week. In a January press release, Andres Aquino announced Nepal Art to the Fashionista World to introduce exceptional designers and world-class entertainment into his showcase of art before the deal.
New York City -- Andres Aquino, Producer of Couture Fashion Week, presented Diamonds on every model in his production of "Elysium Fields by Andres Aquino" to promote his dazzling showcase of art, culture and design from Nepal. Nepal recently was devastated by a major earthquake that took the lives of some American citizens, travelers, and Nepal citizens. As a means for recovering from the losses Nepal suffered after the massive earthquake in April 2015, killing more than 8,000 people and injuring over 21,000, Mr. Aquino dedicated his collections to the business partners of Nepal to promote Tourism within a country rich in history and jewels.
Couture Fashion week Producer worked closely with Raja and Deepak Ghimire and their team, along with Ms. Sarmista Ilo, Mr. Prem Ghopal Majarjan, and Mr. Rishi Prasad Dhakal to present the Elysium Fields showcase yesterday. Mr. Aquino stated in his press release, "I'm delighted to work with these dedicated individuals to put a spotlight on the unique and exotic Nepalese culture for our guests." "I'm sure our audiences will love the very impressive presentation." And indeed, the entire Crowne Plaza Times Square Manhattan Broadway Ballroom was dazzled by Fall 2016 Collections, performances, and opera. Including the media who fights to get a photo shot of Andres Aquino's fabrics, art and handcrafted European designs in this sold out presentation.
Yesterday, for the work well presented, Andres Aquino was presented by the Nepal Tourism Board and World Fashion Parade Inc. with a Gift Certificate for a round trip and all other expenses paid trip for Couture Fashion Week Models and Team of Three with a 10-day trip for a photo shoot in Nepal.
Now who says that Diamonds are not a girls or models best friend in the World of Couture Fashion?
Share: