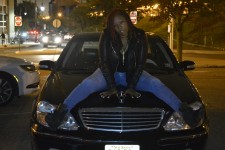 Rapper "Mysterious" speaks out about opening her art to the world at Essex Junction Restuarant in Bloomfield, New Jersey Friday night.
Bloomfield, NJ ~ After being discovered by none other than P. Diddy himself at Justin's restaurant, Detroit rapper, "Mysterious" famous for wrecking the bathroom with her lyrics speaks out about her new femininity for women. In an up close and personal interview with Kimberly "Mysterious" Bert, a Michael Kors emblem symbolizes a new century for Fashion Nova audience to express a new interest using media as this rapper enters into a new decade to celebrate womanhood. Now living in Brick City with her partner, Rapper, "Mysterious" opens her legs to a new paradigm shift of collective expression and understanding to what it means to be socially subjective to marking a social change for women.
Anyone can articulate 'real' social skills that are culturally acceptable and agreed upon, but "Mysterious" goes for what makes up the right kind of overall attitude towards socializing, called "Church." Her new story about cultural standards is subjective because different ideas about the best way to behave spoken in her new message of provoking thought to an audience within a society of different subculture thinkers that are reflected upon change behavior.
Joking around with others is not about conflicts and subjective issues. Everyone must understand that when "Mysterious" preaches about Church, there is no single right way to act when a mother has been stolen from a child. Choices for women are measured by "How are you doing?" Choices are practical consequences with the remarks of "Oh, no worries we will take care of you in the system of unsociable motherhood." The system of hard loves under a guideline in a society of the majority in succeeding socially is called "Mysterious."
Share: