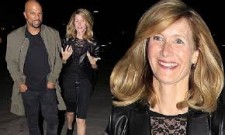 Lonnie Rashid Lynn, Jr., better known as "Common" or "Common Sense" is a Grammy Award American Hip Hop recording artist, Poet, Actor, and Film Producer under the Def Jam Recording Label. With explicit lyrics and graphic descriptions of a woman today, Common joined the Circle of Sisters 2016 Main Stage Seminar on Saturday to discuss his views about "Love."
New York City ~ Reverend Al Sharpton sits with the Circle of Sisters, moving, changing, and growing network of sponsors, AARP New York, Emblem Health, and in Association with AT&T at the Main Stage Seminar to discuss what a King and Queen means in a love relationship today. With the new hit single out called "Lovestar," Common laughs and how the Reverend looks through a lens of non-abuse for a woman. Common has had many relationships in the past that have failed and his most recent relationship with Actress, Laura Dern, a white female, is something special today as they have been spotted in a romantic dinner back in January of this year.
So is Rapper, Common a Moma's boy as the Reverend states? Or do you disagree with the lack of love as a problem in the Black community? Is Rapper, Common busted on the Main Stage singing about Black women under a health care model? Although Common may like White Women today, will Black women continue to receive support from Black men today or will the divorce rate continue to rise under the "Lovestar" theme?
Share: