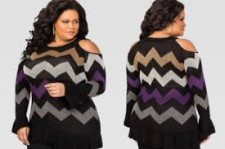 Casting for the Ashley Stewart Catwalk is now complete, and the Circle of Sisters 2016 Expo will celebrate popup shop fashions, pink carpet, and holiday styles to the public this Saturday and Sunday, at the Jacob Javits Center. All divas are welcome to attend this sponsored event located at booth 813.
New York City ~ Ashley Stewart will be celebrating their latest fashion pop-up shop along with quick manicures, light refreshments, and chats at the Circle of Sisters 2016 Expo on Saturday, October 15th and Sunday, October 16th. The event will involve shopping, fashion sneak peeks, beauty tips, expert stylists, and much, much, more. Bloggers and influencers in the plus size industry will connect some of the favorite Ashley Stewart styles for Fall in NYC for Breast Cancer Awareness Month called "Strut For A Cure." The "Get Styled" runway will be one to remember under the Circle of Sisters showcase for new looks and photo-ops.
As Ashley Stewart turns 25 and ups the market with a new ownership under the plus-size fashion Nova, a new launch for entrepreneurs and the lifestyles of plus-size specialty retailing will be announcing a new strip center in Newark, NJ, early next year. Diva's get ready! The prototype lab of new products and formats will be added into the 89-unit chain of store renovations. Ashley Stewart has owned this new market since their intensified change last June as a controlling interest in the company from Clearlake Capital Group, and the FirePine Group founded by James Rhee, chairman, and chief executive officer. The Invus Group has also bought into the controlling interest of plus-size fashion novas since the rebuilding of the company once bankrupted in 2013, causing 100 stores to shutter.
Today, since #IAmAshley campaign and contest has penetrated the philanthropic platform as #ASGives, Ashley Stewart is now the proud sponsor of the Circle of Sister's 2016 Expo of Black Rhetoric, which benefits the battle against breast cancer in the African American Community. Personal photos, videos, and stories will come alive at the Jacob Javits Center this weekend with "inclusive" messages of strength and resilience in the face of disparities. Join the Circle of Sisters 2016 Expo as the catwalk is now an officially stolen cat to the curvaceous woman in America.
Share: