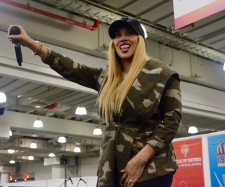 R&B Artist & Reality Star Keke Wyatt showcases her sexuality on the MetroPlus Health Plan Performance State during an electrifying performance at the Circle of Sisters 2016 Expo. Sex today is a creative art that is not only shared in the bedroom today, but it is shared on the stage to promote the sponsor of the show and why having babies matter.
New York City ~ Reality Starr KeKe Wyatt shared her story on the Metro Plus Health Plan Performance Stage Sunday about the importance of maintaining "Love" as a Real Housewife. Although KeKe Wyatt may have had some trouble in the past with her road manager Rahmat Morton over a Christmas Day in 2001, her fans still adore her. Now married to an ordained minister in 2010, Marriage Boot Camp: Reality Stars that airs on WEtv, Fridays at 9 pm is a new spiritual language for the world.
Even ordained ministers drop their worries after 5 pm to get busy with their wives today. Say your prayers and commend your spouse under a Metro Plus Health Plan framework to empower young girls that dreams can come true in the House of the Lord even after experiencing Domestic Violence.
Share: