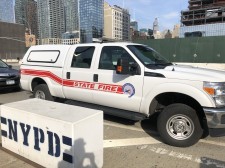 News
•
updated: Apr 14, 2020
Protecting Healthcare Personnel is critical in the mission to save life from the transmission of known SARS-CoV-2 for which a vaccine exist. According to the Center for Disease Control response to #COVID-19, the Epidemic Intelligence Service has not solved the cases for an approved vaccine yet in the Washington State location headquarters. With photography shots up high of Ellis Island where families come to live out their dreams in New York, the White House has acknowledged an alternative Epidemic Detective Service for standby New Yorkers.
New York Press - The Center for Disease Control under the United States Public Health Service commissioned to response and rescue operations on the front lines with the White House's command, trains Americans for the global community. When there is a disease outbreak and the death data needs sense making language to guide the public with comfort media regarding public health threats that emerge for Epidemic Investigation Detectives to investigate, explain, identify the causes of death without a rapidly implemented cure, military deployment can quickly collect evidence to support a cure/prescription.

Today's worldwide death tolls are alarming facts, and the Essential health care workers, Governors, and Mayors are all serving assignments to the selfless public volunteers, news reporters, photographers, health surveillance systems, field investigators, and scientists to respond quickly to participate with a solution. President Trump has recently met with health care executives regarding the deployment of funding in support of the response units to local hospitals and rural areas under his leadership with the Secretary of Health and Human Services. The goal again is to drive the surge in infected areas down in the research gates. New York so far is not tying up too many body bags identified by a positive test because telephone surveys and apps allow alternative investigations to manage testing sites via drive through, home kits service, or transport a friend or relative "Whole-of-America" approaches.
Remember in order to contribute to your community health care of protecting Americans, seasoned Americans are needed to investigate rapid response for 2 years full time fellowship GS12 levels. Applications are due by June 12, 2020, for Atlanta, Georgia so no one is stolen again.
Share: