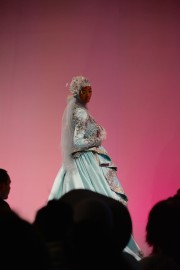 News
•
updated: Feb 15, 2016
Indonesia Next Generation, Designer, Anniesa Hasibuan recognizes the religious conflicts within Indonesia's next generation of religious conflict and dedicates her affluent Couture Bridal Fall 2016 Collections at the Couture Fashion Week NYC event. Although terrorist was responsible for the bombings in Jakarta and Bali, urgent need to tackle extremist ideologies were corrected at the Couture Fashion event with unique Couture Bridal styles to promote National Education and Culture for women.
New York City -- Andres Aquino, Producer of Couture Fashion World presented various Fall 2016 Collections that mattered to the cause of peace and education this weekend. Contributions to the Face and Faith of inner beauty sketched the business leader, Andres Aquino this weekend, as he strategically framed his Fashion artistic performances geared towards thought-provoking messages to support value and pedagogy. The Indonesia Next Generation, Designer, Anniesa Hasibuan, expressed meaningful dialogue in her Couture Bridal designs for a new curriculum in global partnerships.
Explore, Experience and Expressing youth dialogue to drive platforms today will enable the next Indonesian generation to understand and speak Indonesian digital language using Social Media. Since 2013, participation in Indonesian and Australian delegations for politicians, senior academics, media experts as well as the business leader, science and civil society highlights the need to substantiate coverage internationally using media. The objective of the Indonesia-Australia Dialogue is to facilitate people-to-people links using discussion broads of various topics. Couture Fashion is a global issue explored by the affluent consumer for opportunities to engage in business, culture, education, science and technology, so why not draw relationships with European Fashion style.
Andres Aquino's Couture Fashion Week Fall 2016 Collections was a full launch to delegate responsibility for triggered speech. As Saturday's audience gazed at the Indonesia Next Generation Bridal Collections due to the past religious conflicts within the Nations, keynote speeches were already being prepared to address the opportunities to increase personal and professional knowledge of future directions to publicize online support for the youth.
Share: