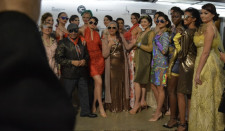 New York Fashion Week Special Events is hosting a fine dining and presentation of fashion trends from the Couture Fashion Collection by award-winning designer, Andres Aquino.
New York City - Couture Fashion Week New York is pleased to present a special evening of luxury fashion, style, glamour and entertainment on November 25, 2023. This will be an unforgettable event during the Thanksgiving Holiday season from one of New York Fashion Week's top producers.
This Fashion show will present the latest stunning couture collection by award-winning designer Andres Aquino(also founder and producer of Couture Fashion Week with over 38 seasons as one of NYFW's best events, renowned for his highly entertaining extravagant fashion shows).
Exquisite jewelry designs and a special surprise from Himawari Diamond by Nhat Linh (a favorite of celebs like Fan BingBing, the reigning Miss Universe R'Bonney Gabriel and Vietnamese-American billionaire Mimi Morris; and the first Vietnamese jewelry designer invited to show a natural diamond jewelry collection at Paris Fashion Week 2023).
Mesmerizing musical performances by
**** N'Kenge - Grammy, Tony and Emmy Nominated Songstress and Actress
**** Cecilia Herrera - one of the most captivating voices of the contemporary Italian music scene
***** Yola Nash - Twice GRAMMY® considered, and multiple award winning smooth jazz singer, songwriter, visual artist and producer
***** Alexandra Hrabova - acclaimed Ukrainian sopranowith Daria Hrabova
***** Singer and actress Katarzyna
***** Pop singing sensation Mia Wallace
***** Dancer Earthly Augustin
***** Janel Tanna – Award-winning actress, model and producer will emcee the event.
Hair and makeup by top industry leaders
Gorgeous fashion models
Splurge on Platinum VIP tickets for the ultimate experience: preferred placement front row seating, photo ops with models, designers and performers, backstage tour (optional) to see how the magic is made, dinner after the show at a nearby restaurant with producer, designers and other VIP guests.
Share: