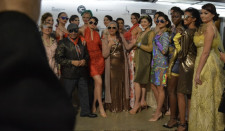 The New York Fashion Week Special Events with a fine dining and presentation of fashion trends from the Couture Fashion Collection by award-winning designer, Andres Aquino had been postponed until February 2024. An announcement was made by the famous fashion designer, Andres Aquino in an email to all ticket holders.
New York City - Couture Fashion Week New York was pleased to present a special evening of luxury fashion, style, glamour and entertainment on November 25, 2023, however, due to performance cancellations the experience has been postponed. This event would have been one of a kind due to the Diamond natures presentations and the Thanksgiving Holiday weekend season, but the of New York Fashion Week's top producers plan to see you on the runway next year February 2024.

Stay tune to your ticket holder announcements for a full list of events regarding Couture Fashion Week and fine dining.
Share: