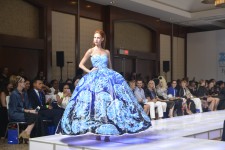 Andres Aquino, Producer of Couture Fashion Week presented his "Glamour Rush" 2017 Collection in support of the $98 Billion NY Fashion Industry for the Fashion United umbrella global apparel Industry. The global fashion womenswear industry is valued at 621 billion dollars, menswear at 402 billion dollars, luxury goods at 339.4 billion dollars, and childrenswear at 186 billion today along with bridalwear increasing the Fashion United industry at 57 billion.
New York City ~ World-class entertainment walked the catwalk this season at the Couture Fashion Week NYC, located at 1605 Broadway Ballroom as Andres Aquino presented his "Glamour Rush" (USA) line to a sea of luxury audiences. The Best of Couture Fashion Week stole the show as an array of selected designs aired on Zee Entertainment Television by Anniesa Hasibuan, and Dauphine of France by Chandra Peyton revolutionized the USA market with new ways of thinking fashion sense under a global leader of fashion trade. Control is a simple word with different meanings and for Mr. Aquino's, the uniquely designed array of breath-taking Couture Cultural style dimensions interrelated a new way to increase job growth in a variety of ways for audiences under a whole new universe of thought in his 24th season.
The thought leader of the fashion industry Andres Aquino sustained his landmark in 2005, under the Fashion Press Syndicate as an innovated business leader activist to document his causes to change in the environment of models, fashion, press, photography, and purpose. The overwhelming sold out shows continues to gain widespread focus on growth innovation within the global job market of International Apparel. With a line up of sponsors, professional photographers, hairstylists, makeup artist and entertainment companies, Andres Aquino has expanded his organization into a large-scale social society that is now representing freedom to over a billion viewers within 171 countries.
Share: