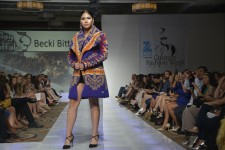 The Couture Fashion Week presented by producer Andres Aquino debuted the latest Spring 2017 Collections by "PlayBuffalo" label last night at the Broadway Ballroom located in the Crowne Plaza Times Square Manhattan, 1605 Broadway, NYC. The Canadian designer, Becki Bitternose presented her latest line of outerwear inspired by her grandmother's tradition "kokums," the making of beautiful hand-sewn quilts.
New York City ~ Zee Entertainment Television presented Couture Fashion Week New York last night under the newly formed partnership of the largest producers and aggregators of Hindi programming. The strong presence of luxury designs under the American Indian Traditions is now part of the rights to the Hindi film library. Zee TV entertains over 1 billion viewers across 171 countries including USA, Canada, Europe, Africa, the Middle East, South East Asia, Australia and New Zealand. This year ZEE TV presented Couture Fashion Week New York into their collection founded by Andres Aquino, to electrify the catwalk with the Canadian Designer, Becki Bitternose.
Becki Bitternose is from the George Gordon First Nation, Saskatchewan Canada. Ms. Bitternose launched her career in 2013 without a fashion design framework, her knowledge was inspired from the use of patterns and settings created for her newborn children out of Pendleton blankets. As a First Nation designer who "could not afford the Pendleton jacket at a powwow is now a National Aboriginal Fashion Week hit who supports the Power of Pink Breast Health. Ms. Bitternose's Pendleton outerwear collection has grown from a Stay at Home Mom to a British Columbia east coast success.
Share: