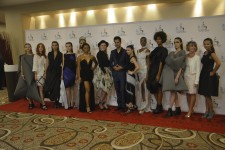 Singing Gospel Sensation "Yoann FreeJay" mesmerized the stage last night at the Couture Fashion Week NYC presented by Zee Entertainment Television. The "Voice Of France" opened at the Crowne Plaza Times Square Manhattan, Broadway Ballroom, singing his electrifying performance of gospel in debuted of human rights.
New York City ~ Yoann FreeJay was awarded the "The Voice Of France" after launching his singing career at the tender age of 15 under the American gospel music label. With an Official, YouTube page of hits, Yoann FreeJay (Freget) issued his de facto in the gospel genre with hits "I Love The Lord" and "Try A Little Tenderness" during the New Miuz by Pawan Seewoorttun from Mauritius.
Yoann FreeJay possess a classical approach to human rights using a pragmatic approach to the Aboriginal tradition of "Who Stole The Cat?" His political philosophy to owning his genre is a born right to his key ideas, and he shares the belief of entitlement when signing a record deal. In a personal interview with the singer after the show, Yoann FreeJay stated: "He can not be with those drugs" that alter genuine human rights issues and individual liberty today. Torture, slavery, arbitrary arrest or detention are not legitimate human rights unless economic and social rights are taken under the right to protect life and property.
Share: