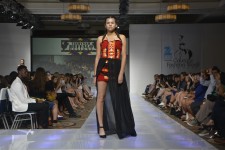 Tishynah Buffalo Designs hit the stage at the 24th Season of the Couture Fashion Week presented by Zee TV. Over a billion across 171 countries including USA, Canada, Europe, Africa, the Middle East, South East Asia, Australia and New Zealand have partnered with Couture Fashion Week 24th Season to house the Hindi film library with luxury American Indian Designs. The George Gordon First Nation Designer displayed her love for fashion in the Broadway Ballroom of the Crowne Plaza NYC in Manhattan.
New York City ~ The Crowne Plaza Times Square Manhattan, Broadway Ballroom delivered luxury American Indian Tradition by Designer, Tishynah Buffalo this season. The Powwow regalia of fashion sense "love" blended Chief Joseph prints that expanded a distinctive blend of modern Amerian Indian Tradition. The Indigenous Fashion Week 25-year-old Cree Indian designer of the George Gordon First Nation Saskatchewan tribe launched her inspirations in the Western Canada Fashion Week, International Indigenous Fashion Week, and Fashion Speaks Regina including her all natural presentations on "Raw" rawartists.org.
Tishynah Buffalo Designs is the next generation of exceptional talent integrated into the Big Apple today boosting sales for the $98 Billion dollar industry of fashion with her trademark print. The designs are beautiful, classy, and an original statement that can only be understood in no other than an understood American Indian Spirit.
Share: