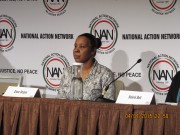 News
•
updated: Jul 13, 2015
Policy as it translates to the planning process is to develop a strategic plan to modify a business or criminal justice system. Since July 17, 2014, justice has not been met for Eric Garner, the Staten Island man that was placed in an unrecommended choke hold causing him to lose air to breathe in. Due to criminal justice a rally will be held on July 18, 2015, in Brooklyn, NY at 12 noon.
The National Action Network will be holding a rally on Saturday, July 18, 2015, at 12 noon in front of the U.S. District Court, 225 Cadman Plaza East (at Tillary Street) Downtown Brooklyn. The goal of this rally is to transform the justice system to demand a federal
investigation into the killings of Garner and Graham's death. Many supporters of the National Action Network has also projected their voices on "Justice4Garner" in Washington, D.C. along with this upcoming rally. The objective for seeking justice for Garner is to enable organizations and sponsors to sponsor a new vision, mission, and systems for criminal justice transformation to a complex system. This state of change sought is to a continuous episodic tension to place strain on legislation to adapt and evolve a new revolution for criminal justice affected users.
Share: