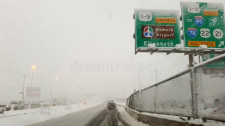 The National Weather Service has announced snow in the forecast. It has been nearly 3 months and into the wintery weather season without snow for Essex County. What should the residents expect before tomorrow?
New Jersey News - Winter has hit late for the New Jersey residents in Essex County and now for the first time since the equator has shifted, snow is expected to fall Monday night. Forecasters and the National Weather Service has announced 3-5 inches of snow in the suburban areas of Essex County New Jersey and 3-7 inches of snow fall near Newark International County Airport along with Southeast New York. National Weather Service warns of hazardous conditions and to be aware of travel plans for tonight due to the impacts of slippery road conditions for Tuesday's commute.

For all currently, the latitude is 40.68"N, Longitude 74.17" W, and Elevation is 16ft. The winds could get as high as 25 mph causing wind chills between 25 to 30 mph.
Share: