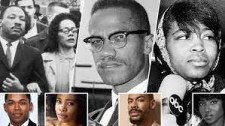 News
•
updated: Nov 3, 2023
National Geographic Original Films and Urbanworld Film Festival 2023 is opening in Manhattan a **Special Sneak Preview** of the series, Genius: MLK/X. Special guest and partners will have the opportunity to witness the formative years of both Dr. Martin Luther King Jr. and Malcom X and how their identities were shaped and influenced by their upbringing. King by the Jim Crow-era South his church life and find his voice at Morehouse College and Boston College and X witnessing deadly violence of the Klan which later brought his voice.
New York City - The Urbanworld Film Festival 2023 is announcing the introduction to the **Special Sneak Preview" by National Georgraphic Original Films, "Genius: MLK/X." The film and a series of films will offer uptapped moments into the lives of both MLK/X's husbands, fathers, brothers and sons according to the film maker Executive Producers Reggie Rock Bythewood and Gina Prince-Bythewood.
The anthology episodes upcoming project will premier on National Geoographic during Black History Month, February 1, 2024, as a story that matters feature. The two iconic geniuses are Dr. Martin Luther King Jr. (Kelvin Harrison Jr.) and Malcolm X (Aaron Pierre). The new series season broadcasting tomorrow in Manhattan focuses on the think and understand concept of who Dr Martin Luther King Jr's legacy connects to X's legacy by sharing the same objectives and approaches in different ways.
A post-screening discussion regarding this premier will be held with the producers and showrunners Damione Macedon and Raphael Jackson.
Share: