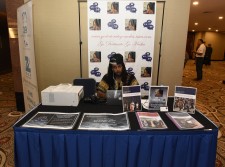 What is a Red Carpet VIP Photo in an affluent trendsetting and fashion-conscious market today? Go Doctorate Go Media knows it is to brand a one-of-a-kind platform to separate her talent from the rest. Go Doctorate Go Media plans to engage with on-site audiences again as a sponsor in the Couture Fashion Week 25th Season.
New York City Release ~ What is a sponsor who proposes an opportunity for a company without having an exclusive photo shoot design to represent Social Purpose Business For Social Justice in 2017. The benefit of understanding famous elite designers is a market for networking events with business and professionals in the New York City area. The Couture Fashion Week drew a particular affluent audience in the 23rd and 24th season with average household incomes over $100,000 in the presentation of couture and luxury fashion designs. Excellent designers from all over the world present the latest seasonal collections and accessories to hundreds of upscale consumers, socialites, diplomats, celebrities and international press attendees.
So what role does international realty play in a market that cooperatively advertises programs to provide such an array of options - both in print and digital? The answer is leverage! High-profile, global media partners offer targeted reach and vast worldwide exposure to negotiate exclusive placements into a blue sea of business strength networks. Comprehensive daily reports, opinions, and decision makers enhance their opportunities to distribute high-quality news information and entertainment to readers of various income and investment levels, unlike any other average newspaper.
For Go Doctorate Go Media, news photography journals and reports for readers whose taste in deluxe, active and upscale lifestyle trends is a mobile experience to advertise opportunities within the International market. Prestigious events targeted for causes is a place that more that a thousand impressions can be distributed digitally in hotel rooms, large event sites, and mobile devices on the go. In 2017, the projection for devoting "harnessing light" to luxury audiences to attract elite individuals is to build upon the loyal readers by dedicating everything to arts and entertainment using business and technology dine with your device. Lulu print versions for the unique impressions worldwide with represent credibility and influence to the environment of luxury real estate clients to connect what is worn to their neighborhood.
Go Doctorate Go Media's advice to the upcoming photo shoot planners today, align your content opportunities worldwide for a global luxury experience that is lifestyle driven like no other news source. Lead by quality, major themes, and structure with your best design as a writer to emphasize a polished look with exclusive interviews entertaining your topics today. Producer, Andres Aquino was chosen as an exclusive brand to share a call to action to create a brand that drives traffic to Go Doctorate Go Media even after the event.
Share: