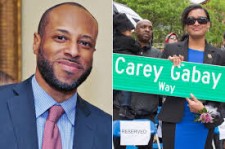 News
•
updated: Mar 20, 2017
Governor Andrew M. Cuomo today announced that the State University of New York is now accepting applications for the Carey Gabay Scholarship Program. This scholarship is in honor of Carey Gabay, an attorney and public servant, who was tragically killed as an innocent victim of gun violence in 2015. The program is aimed at providing Full Scholarships to SUNY Colleges For Disadvantage students
New York Press Release ~ This program provides full scholarships to five incoming SUNY students who exemplify Carey's commitment to social justice, leadership, and mentoring, as well as his personal story of succeeding academically despite having an economically disadvantaged background. In September, Governor Cuomo announced the first recipients of the scholarship.
"Carey was an exemplary young man who could have done anything, but decided to dedicate his life to public service," Governor Cuomo said. "It is our hope this scholarship program will empower other talented young people to pursue a career in government and in pursuit of improving the lives of their fellow New Yorkers."
Carey grew up living in public housing and attending public school in the Bronx. After a successful high school career, he went on to graduate from Harvard University and Harvard Law School. He had a longstanding commitment to public service and giving back to those around him, and while at Harvard University, he ran to become the president of his undergraduate student body. In recent years, he worked tirelessly in public service, first as an Assistant Counsel to Governor Cuomo and later as First Deputy Counsel for the Empire State Development Corporation.
The Carey Gabay Scholarship Program will annually award full scholarships to five students to attend four-year SUNY colleges beginning in the 2017-18 school year. These scholarships will cover all costs of attendance, including tuition, room and board, college fees, books and supplies, and transportation and personal expenses. Applications are available here and are due on April 15, 2017.
Share: