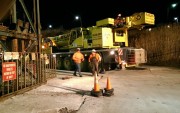 News
•
updated: Jan 7, 2016
Tompkins County Emergency Response freed 17 miners trapped in nearly 900 feet underground when an elevator cable malfunctioned at Cargill Salt Mine In Lansing, Upstate New York. According to NBC News, emergency crews raced to the scene Thursday morning to free miners trapped 70 stories below ground. An apparent elevator shaft malfunctioned causing a plunge of about 2,300 feet into the cold deepest part of the mine.
New York -- In a statement released by Gov. Andrew M. Cuomo today regarding 17 miners trapped underground in a mine due to a malfunctioning of an elevator. "Earlier this morning, 17 miners became trapped in an underground mine car at the Cargill Salt Mines in Tompkins County, New York. Following a coordinated rescue effort that spanned multiple hours and involved emergency personnel from throughout the region, all 17 individuals have been recovered and are in good health.
"I have directed a team of inspectors from the Office of Emergency Management, Office of Fire Protection, and the Department of Labor's Division of Safety and Health to the site to do a full investigation into the circumstances surrounding last night's incident. The health and safety of New York's workforce are paramount, and every step will be taken to ensure this incident is not repeated in the future, and anyone potentially at fault is held accountable.
"On behalf of all New Yorkers, I want to thank the dedicated first responders who worked tirelessly through the night to ensure the safe return of these miners. This is the perfect example of New Yorkers coming together in times of need, and I am grateful for the efforts of all those involved in this operation."

Share: