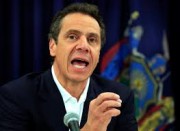 News
•
updated: Sep 1, 2015
Governor Cuomo announced that a New Exposition Center, Equestrian Facilities and Expanded Concert Area Will Create A Year-Round Multi-Use Facility to the New York State Fairgrounds in Onondaga County. The plan includes 110,000 square foot exposition center, a larger festival stage to bring in larger concerts, and a Midway area to attract more 400-site RV Parks.
According to Governor Cuomo, "the State Fair is one of Central New York's greatest economic engines, but the grounds have needed major upgrades for years. That's why were redesigning the Fairgrounds from the bottom up." The Governor's plan to transform the Fairgrounds into what is called a "world-class set of facilities" is to generate economic activity and jobs all year long. The new Upstate New York is underway and the first step to a new regional economy in the area.
Due to the weather conditions in the area, the New York Fairgrounds remained the same for over a century with no major redesign by placing a strain onto the general economy to basically rehabilitate the area. Repairs was the centralized focus to this plan due to the lack of green areas from the storm water causing infrastructure damage from severe flooding.
The plan is to meet the standards for the Americans with Disabilities Act by installing conducive technology for electronic ticketing and scanning. The Governor also plans to include a new 400-site RV Park that will include full camper hook-ups with 50/30/20 amp electric options, infrastructure to support communications/fiber, along with water and sewer connections, as well as bathrooms and showers. The purpose for this $50 million dollar redesign is to enhance the visitor experience.
Photo Credits By ~ NewsLab.US
For more information regarding this construction plan news is available at www.governor.ny.gov
Share: