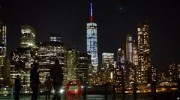 News
•
updated: Nov 14, 2015
Governor Cuomo's released a statement to light One World Trade Center yesterday in Blue, White and Red for solidarity with the people of Paris, France. The lights are scheduled to be lit tonight again, November 14, and tomorrow, November 15, in the days ahead for Paris in the wake of senseless attacks and solidarity with the people.
New York -- According to a release yesterday, Governor Cuomo has directed New York State law enforcement to remain vigilant after the death toll rose of the senseless attacks on the Paris, France people. The New York State Police, the New York State Police, the New York State Intelligence Center and the Division of Homeland Security and Emergency Services are actively monitoring the situation for any implications in New York State and remain in constant communication with their local and federal partners.
Governor Cuomo stated yesterday, "Today's horrific attacks in Paris have moved us all, and the more we learn, the more our hearts ache." "These were cowardly acts of evil by people who have inexplicably chosen to believe in radical hatred above all else. We reject that kind of extremism -- choosing instead the bonds of liberty, equality and fraternity that bring us together. Today, and in the days ahead, New York will light One World Trade Center in blue, white and red as we stand in solemn solidarity with the people of France, just as they have done for us in our own times of tragedy. We join them in mourning those who were killed, and in praying for those who were injured or lost loved ones. And we continue to stand side by side with them in our commitment to a free and peaceful world."
In light of the attacks, Governor Cuomo has dedicated additional personnel to be deployed to high-density areas and large public gatherings. At this time it is important to take note of precautionary measures based upon specific intelligence linking the U.S. and the attacks in Paris. Additional state agencies have been added to include National Guard, the Metropolitan Transportation Authority and the Port Authority of New York and New Jersey for heightened state of alert.
Today Governor Cuomo said, "In times of darkness, we confront the hatred that drives terrorism and the tremendous pain and loss it can cause. Yet we also know that terrorism will never prevail – it never has. We grieve deeply for the people of Paris, as New Yorkers who have experienced the same pain and loss firsthand in an attempted assault on our values of liberty and equality. Yet we are stronger now in our commitment to those values than we have ever been before. Today, we are one – we stand shoulder to shoulder in rejecting extremism, condemning violence, and working to achieve a better and brighter future for all."
"In light of yesterday's horrific attacks, we are stepping up precautionary security measures at key points around the state. The safety of New Yorkers and our state's visitors is our number one priority, and we are remaining vigilant and in close contact with local and federal officials and our partner law enforcement agencies."​
The following measures have been put into place for New Yorkers:
Division of Homeland Security & Emergency Services
DHSES has been in contact with key local public safety officials following the attacks in Paris. The DHSES Watch Center, as a precaution, has increased monitoring of various large public gatherings, including various sporting venues throughout the State. DHSES remains in a state of readiness and prepared to disseminate information to our public safety partners statewide as necessary.
State Police & National Guard
The New York State Police and the National Guard have also been in contact with federal officials as well as local law enforcement partners, including the New York City Police Department, following the attacks in Paris. At the Governor's direction, as a precaution, the State Police and National Guard have increased surveillance of critical infrastructure including transportation hubs and will be deploying additional resources to large public gatherings.
Port Authority of New York & New Jersey
Port Authority Police are on heightened alert at all of the agency's bridge, tunnel, rail, World Trade Center and other facilities, following yesterday's tragic attacks in Paris. Actions include increased patrols and checks of bags, buses, trucks and trains at agency locations. Travelers are reminded to remain vigilant and report any suspicious activities to police or other authorities.
Metropolitan Transportation Authority
The MTA has increased its patrols and surveillance in order to provide heightened protection across all its agencies. The MTA Police Department has stepped up its uniformed and plainclothes presence in Penn Station and Grand Central Terminal as well as other major stations throughout the Metro-North Railroad and Long Island Rail Road network. Police canine teams and units with heavy weapons will provide extra protection as well as a noticeable sign of increased security. Railroad customers will also see surge patrols, increased step-on/step-off patrols of trains, and random bag checks at various locations.
Behind the sýcenes, the MTA Police Department, MTA New York City Transit security and MTA Bridges and Tunnels Officers share intelligence information and coordinate their threat response with other police and security agencies to ensure a seamless web of protection throughout the region.
New York State Police and the New York National Guard members have been assigned to high-profile MTA locations for more than a year, and they are helping secure these locations as well as reassuring the public that the authorities are dedicated to ensuring their safety.ý The MTA closely monitors large public events that occur in or near its facilities and will provide heightened awareness of activities there.
The MTA works closely with the NYPD to secure New York's subways and buses, and MTA Bridges and Tunnels Officers are using a mix of visual and technological surveillance to ensure safety at its seven bridges and two tunnels in New York City.
"If You See Something, Say Something"
New Yorkers are reminded to stay alert to their surroundings, and to report any suspicious activity. Reports can be made to the Counter Terrorism Center at the New York State Intelligence Center via its terrorism tip line: 1-866-SAFENYS (1-866-723-3697); or by email: ctcenter@nysic.ny.gov.
Share: