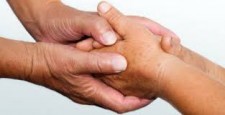 Governor Andrew M. Cuomo today announced the launch of a public awareness campaign to educate New Yorkers about the services and compensation available from the state to assist innocent victims of crime and their families. The "Help, Healing and Hope" public service announcements, which feature survivors of crime describing the assistance they received from the Office of Victim Services, are now airing on broadcast television stations in 10 markets across the state.
New York City Press Release ~ "New Yorkers help New Yorkers in their time of need, and this campaign will raise awareness of the state resources available to help crime victims through the healing process," Governor Cuomo said. "We want all residents to know they are not alone and, in their darkest hour, help is available to them."
Five, 30-second PSAs began airing today in 10 television markets: Albany, Binghamton, Buffalo, Corning, Elmira, Plattsburgh, Rochester, Syracuse, Utica and Watertown. The Office of Victim Services is partnering with the New York State Broadcasters Association on the five-week campaign, which runs through Sunday, Oct. 30.
Office of Victim Services Director Elizabeth Cronin said, "Our support reaches more crime victims every year, but we know there are still some who are unaware of help that is available through the agency. Our hope is that these powerful stories will both inform and empower individuals to seek out the assistance from OVS or one of the many service providers we fund."
The PSAs feature survivors of crime and advocates describing how the agency and the services it funds helps rebuild lives, and have been distributed to 45 stations that are members of the Broadcasters Association. They can be viewed here and feature the following:
· Jennifer Nadler, a survivor of childhood sexual abuse. Vera House, an OVS-funded program that assists victims of domestic and sexual violence, and an advocate with the New York State Police also funded by the agency, were instrumental in her healing, as was OVS compensation for medical care and counseling. The PSA is airing in the Syracuse, Elmira, Corning, Plattsburgh and Watertown markets.· David Snowden, who was paralyzed in a drive-by shooting in New York City more than 25 years ago. The agency retrofitted his apartment for wheelchair accessibility, made his vehicle adaptable so he could drive it with hand controls, and paid for a variety of medical supplies, filling any gaps left by his insurance. The PSA is airing in the Buffalo, Syracuse, Albany, Binghamton, Rochester and Utica markets.· Christine White, a Cattaraugus County resident and member of the Seneca Nation, who received assistance from OVS-funded Cattaraugus Community Action. The Office of Victim Services assisted her with funeral and burial expenses after her 3-year-old daughter was killed. The PSA is airing in the Buffalo market.· Lisa and Brad Gilbert, a Capital Region couple whose daughter, Riley, suffered a traumatic brain injury at the hands of her babysitter. In addition to assisting with medical equipment and health care expenses not covered by insurance, OVS funded renovations to make their home wheelchair accessible. The video will air in the Albany, Elmira, Corning, Plattsburgh and Watertown markets.· "OVS Helps," which features brief testimonials by survivors of crime and victim advocates, sharing how the agency assisted them and their work to help individuals heal. The PSA video is airing in all 10 Upstate markets.

The Office of Victim Services provides a safety net for individuals and/or their families who have been victimized through no fault of their own and have no other means of assistance. The agency can pay medical, dental and mental health bills, lost wages and support, and burial and funeral expenses, among other types of assistance. Compensation is funded through fines, fees and surcharges paid by certain offenders convicted in federal and state courts, not taxpayer dollars.
New York State is the only state with no cap on medical or counseling expenses, which means individuals who sustain serious, life-altering or traumatic injury, as happened to David Snowden and Riley Gilbert, can receive help as long as they need it.
Syracuse-based Vera House and Cattaraugus Community Action in Salamanca are two of the 223 programs funded by OVS that provide counseling, crisis intervention, advocacy and legal help, among other services, to crime victims in every county in the state. These community-based providers receive more than $43.8 million from the agency, which also provided nearly $20 million in compensation to individuals and families in 2015.
In the aftermath of last week's explosion in Chelsea, the Office of Victim Services, working with the FBI, connected victims to OVS-funded service providers, which will help those individuals file claims for compensation for medical bills and other expenses and also provide direct services, such as crisis intervention and counseling.
About the Office of Victim Services

The public awareness campaign coincides with the agency's 50th anniversary. New York State created the agency to assist innocent crime victims in 1966, in response to the death of a Good Samaritan, who was stabbed to death in front of his wife and young child aboard a New York City subway. Left with no viable means of income, his widow was forced to send her daughter to live with relatives overseas.
The campaign is possible as a result of additional funding available to the Office of Victim Services under the federal Victims of Crime Act. That funding also has allowed the agency to provide additional grants to programs so they can serve additional victims and modernize their offices with equipment and technology. In addition, the agency has expanded training for victim advocates because of the additional funding.
The Office of Victim Services is a payer of last resort: all other sources of assistance, such as medical or automobile insurance and workers compensation, must be exhausted before the agency can pay a victim or their family members for any out-of-pocket losses related to the crime. For more information about services offered by OVS, including eligibility guidelines and a list of victim assistance programs that provide direct help to crime victims across all 62 counties in New York, visit the agency's website or call 1-800-247-8035.
PSAs Feature Survivors of Crime Describing the Assistance They Received from the New York State Office of Victim Services

New Yorkers Can Visit the Agency's Website or Call 1-800-247-8035 for More Information
Share: