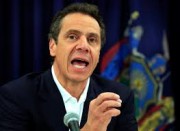 News
•
updated: Sep 2, 2015
The Governor has announced that a crackdown is underway for underage drinking and fake identification document uses at summer concerts, hotspots, and events during the Labor Day Weekend. There will be an unannounced enforcement at concert venues and public gatherings where young adults hang out.
The Department of Motor Vehicles' (DMV) has partnered with law enforcement agencies to carry out an investigation on underage drinking and the use of fake identifications by young adults in New York. Governor Cuomo announced that this partnership will crackdown on the bad decisions young adults make while drinking underage at various identified concert venues. The DMV plans to check identity documents during statewide events over the Labor Day Weekend of individuals making alcoholic purchases. If the Identification Document (ID) is fake an arrest will be made and the person's ID will be confiscated.
According the report, a crackdown on concerts and events was followed by Saturday's Rascal Flatts show at the Darien Lake Performing Arts Center. Law enforcement arrested 20 concert goers and confiscated & ID's from Maryland, Michigan, Ohio, Pennsylvania, and New York State. The venues that are subjected to enforcement were Saratoga Performing Arts Center, Constellation Brands-Marvin Sands Performing Arts Center, and Darien Lake Performing Arts Center. College students are advised to take heed to the messages from Governor Cuomo, due to the actions of enforcement by the Governor's Traffic Safety Committee that runs the campaign "Drive Sober or Get Pulled Over" that runs through Labor Day.
For more information go to: www.governor.ny.gov
Share: