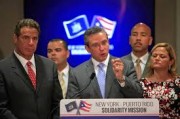 News
•
updated: Sep 9, 2015
Governor Andrew M. Cuomo announced an aggressive action plan to assist the Puerto Rican government during their debt crisis as it relates to health care and the Puerto Rican economy. A solidarity delegation from New York met at the University of Puerto Rico's Medical Sciences Campus in San Juan in front of 400 medical students and local residents to discuss a plan.
Puerto Rico's Governor, Alejandro Garcia Padilla announced a plan to address the Puerto Rican debt crisis yesterday. An invitation was extended to Governor Andrew M. Cuomo, members, and representatives of New York yesterday. Governor Cuomo stated, "The trip was about fighting to achieve fairness and parity for Puerto Rico." "The federal government needs to step up for Puerto Rico, and I am proud to have joined Governor Garcia Padilla to highlight the problem and help his administration find a path back to prosperity."
Puerto Rico has experienced a debt crisis in their basic Medicare program due to the federal government's refusal to fund both the Medicare Advantage program and the Medicaid programs within Puerto Rico. Approximately 75 percent of all Medicare beneficiaries in Puerto Rico are part of the Medicare Advantage program. The projections for next year due to the health funding crisis for the Medicare program are scheduled to decline even more in 2016. Puerto Rico has always relied on a block grant in the amount of $6.4 billion since 2001 to support their Medicaid funding, however, since the cut backs in funds the expectations for the Medicaid program will be fully expended by 2017. Today's current spending for health care beneficiaries in Puerto Rico is approximately $185 million annually on Affordable Care Act related taxes and Puerto Rico residents are not eligible for subsidies on the federal health insurance exchange, which makes commercial health insurance coverage unaffordable for many Puerto Ricans.
Since 2011, Governor Cuomo's Medicaid Redesign Team significantly improved the efficiency of New York State's health care delivery system by transforming costs and patient outcomes in 2014. As a result of the new delivery system, $8 billion of funding was committed in the form of a "Medicaid Waiver." Technical assistance to Puerto Rico was provided by the New York State Department of Health as a part of the plan to implement a redesign strategy in the Puerto Rico's health system benchmarked from the success in New York State.
In addition to improving outcomes and advocating for parity in Puerto Rico, the State Department of Health will also assist the Puerto Rican government, along with the Greater New York Hospital Association and 1199 SEIIU's healthcare Education Project. The Governor also announced economic and related issues designed to strengthen and expand the Puerto Rico economy. Energy and Infrastructure, agriculture, tourism, and business and technology development are all critical components to raising awareness in Washington regarding the Puerto Rican government to attack the health and debt crisis on the island.
Share: