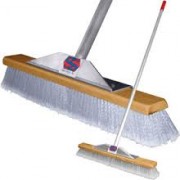 Super Sweep, Inc. has been in business for over 25 years and continues to push a broom designed for "The Super Sweeper." The design of the Super Sweeper is now earmarked by Governor Andrew M. Cuomo today to expand from its current size. There will be 29 new jobs for Super Sweepers at the Huntington Station Factory as it expands throughout New York State under its umbrella of retailers.
New York -- Governor Andrew M. Cuomo today announced that Long Island industrial broom manufacturer Super Sweep, Inc., will expand from its current size, with only six employees, to create 29 new jobs as it moves into a 25,000-square-foot factory in Huntington Station. The company will retain its six current employees, for a total of 35, and outfit the new factory to manufacture its aluminum-handled push brooms.
"The success of homegrown companies like Super Sweep is proof of the resurgent strength of Long Island's economy," said Governor Cuomo. "I'm proud that our administration is helping small businesses like Super Sweep thrive and take on new opportunities for growth, and I look forward to seeing them continue to create more jobs in the days to come."
Michael Margolin, President, CEO, and founder of Super Sweep, Inc., said: "We are very excited about this opportunity to grow our company here on Long Island, where we started and have received such tremendous community support over the years. We'd like to thank Governor Cuomo and his team at Empire State Development for all the assistance they have provided us in making this expansion happen."
Howard Zemsky, President, CEO & Commissioner of Empire State Development, said: "Small businesses like Super Sweep are the backbone of the state's economy, accounting for 43 percent of New York's private sector jobs. Under Governor Cuomo's leadership, entrepreneurs in New York have opportunities and support to grow their small, local businesses into large regional companies."
This expansion will allow Super Sweep to manufacture all components of its product line in-house and store larger quantities of inventory to meet growing market demands. The company was formed in 1998 on Long Island to provide high-quality, resilient brooms to the construction and maintenance industries. With increased demand for its products, Super Sweep has outgrown its three facilities, totaling 4,900 square feet, in Deer Park. In the new location, the company will consolidate all of its operations under one roof.
Suffolk County Executive Steve Bellone said: "Suffolk County is proud to serve as the home base of Super Sweep, Inc. Super Sweep, Inc.'s commitment to remaining in Suffolk County and creating job opportunities here is a victory for our collaborative efforts to work aggressively to retain and grow businesses in Suffolk County,"
Huntington Supervisor Frank P. Petrone said: "As we continue our Huntington Station revitalization efforts, a key component is attracting growing businesses that will help bring jobs to the community. I welcome Super Sweep to their new location in our central revitalization area and thank Governor Cuomo and Empire State Development for extending Excelsior Jobs Program benefits to the company to help make this relocation possible."
Suffolk County Legislator William R. Spencer, M.D., said: "Michael Margolin's story serves as a great example of American ingenuity and entrepreneurial spirit. Small businesses are a crucial part of livelihood and economic growth in Suffolk and they add tremendous value to our community. I am thankful and proud to hear that Super Sweep, Inc. has chosen Huntington Station as their new location to expand job opportunities on Long Island."
To encourage Super Sweep to expand in Long Island, ESD is providing the company with up to $200,000 in Excelsior Jobs Program tax credits. Super Sweep will create 29 new jobs, retain all six current jobs and maintain those staffing levels through 2025, in addition to investing more than $4.5 million to relocate its existing manufacturing operations. Prior to deciding to remain in New York State, Super Sweep had considered moving to Connecticut, New Jersey, or Pennsylvania.
About Super Sweep:
Working in the construction industry, Michael Margolin had one continuous problem: broken push brooms. So in the mid-1990s he designed the "Super Sweeper", an aluminum-handled push boom that weighed only three pounds and outlasted and outperformed all the wooden-handled brooms he had tried before. Michael founded Super Sweep in 1998, as a side business to his roofing company, and sold his patented push brooms in three local shops, on Long Island. In 2011, when the construction industry slowed down, Michael and his family turned Super Sweep, Inc., into a full-time operation. Since then they have grown steadily, and now their Super Sweepers are sold in more than 1,000 stores nationwide, including Ace Hardware, and on Amazon.com.
Share: