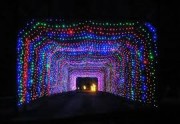 News
•
updated: Nov 3, 2015
Governor Andrew M. Cuomo announced in a press release that the drive-through Holiday Lights Spectacular will be presented by the NYCB Family of Banks at the West End of Jones Beach this month. The Long Island holiday tradition will return after several years of absence to view more than 150 animated and synchronized lights to create a colorful and marvelous holiday experience.
Long Island, NY -- Governor Andrew M. Cuomo will return the holiday tradition for the second year at Jones Beach after a 7 year absence. The Holiday Lights Spectuacular is a 2.5-mile drive offering visitors the opportunity to view more than 150 animated and synchronized light displays. The event will be partnering with Live Nation through the park and an expanded holiday village of ice skating will be featured under the theme the Holiday Lights Spectacular.
The Holiday Village will feature pictures with Santa, holiday refreshments, holiday music, local school choir performances and a Hay Maze that will provide a magical journey through the sparkling lights in the Holiday Village. A 12 Days of Christmas and Santa's Beach Party will also return as one of the Fan favorites.
Governor Cuomo stated, "Last year's return of the Holiday Lights Spectacular restarted a great Long Island holiday tradition and I'm proud to continue it once again." "I encourage New Yorkers and visitors alike to take a trip and see this spectacular display that encompasses the very best of the holiday season."
The Holiday Lights Spectacular will open to the public on Friday, November 20. visitors can enjoy the display each day from dusk until 10:00 p.m. Monday through Thursday and until 11:00 p.m. Friday through Sunday. The show concludes Sunday, January 3rd.
State Parks Commissioner Rose Harvey stated, "It's truly wonderful to see a jewel like Jones Beach shine through the holidays with this spectacular light show." "We are grateful that our partnership with Governor Cuomo and Live Nation enables Jones Beach State Park to continue this Long Island holiday tradition, and look forward to another year of providing fun for the whole family."
Alan Ostfield, President of Live Nation North Atlantic stated, "Live Nation is thrilled to once again be a part of lighting up the holiday season at Jones Beach." "The Holiday Lights Spectacular is a wonderful way for us to work with the Long Island community to create a truly memorable night of holiday cheer for the whole family."
Admission for the Holiday Lights Spectacular is $20 per vehicle during the week and $25 on weekends and holidays. Every Tuesday, "2 for Tuesdays" will offer visitors the opportunity to drive through the Holiday Lights Spectacular a second time for free. All other nights, a second trip through the lights for same night re-entry will cost half price. Wednesday nights will be designated as "pet nights," and families who bring their pets will get a free Santa photo. Every weekday, visitors who bring a canned food item will receive $3 off admission at the door. The food will be donated to food banks in Long Island and New York.
For more information, please visit http://www.seetheholidaylights.com/
The Governor's NY Parks 2020 program is a multi-year commitment to leverage $900 million in private and public funding for State Parks from 2011 to 2020. In 2014, Governor Cuomo announced the $65 million Jones Beach Revitalization Plan to expand recreational opportunities, restore historic and aesthetic grandeur, strengthen storm resiliency, and streamline park entry, all of which will improve economic development and increase visitation to the park.
Share: