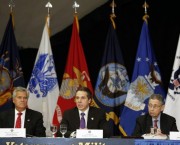 News
•
updated: Sep 23, 2015
Governor Cuomo launches a statewide initiative to recruit Veterans. The statewide initiative is aimed at assisting New Americans learn English to become U.S. citizens.
New York -- Governor Andrew M. Cuomo launched a new statewide initiative today in an effort to recruit Veterans of the U.S. Armed Forces to volunteer and assist immigrants who want to become American citizens. The U.S. Department of Veterans Affairs have volunteers that support and help people in many ways, whether it is donating, providing transportation, or making a difference by partnering or providing assistanceto hospitals and organizations. Veterans will teach newcomers into the U.S. English to help them prepare for the U.S. civics portion of the naturalization exam. This initiative has also be set up to encourage immigrants to volunteer with Veterans organizations, including the New York State Division of Veterans' Affairs offices and the United States Department of Veterans Affairs hospitals to assist returning service members in their transition from military to civilian life.
Governor Cuomo stated, "New York has long been a beacon to those who come to this nation to make a better lies for themselves and their families." "I can think of no better way to honor and continue this rich legacy than this program, which pairs heroes who fought to preserve the American Dream with those who came to here to pursue the American Dream. Our strength is our diversity and I'm proud to help launch this new initiative for new New Yorkers."
Also in a effort to recruit English learners to become U.S. citizens, partner veteran support organizations will assist in the recruiting efforts, as well as other State agencies. The economic life and State's civic institutions on governance will also help recruit military veterans interested in teaching efficiency and equity to partner and support the New York State Office for New Americans, the New York State Division of Veterans' Affairs and the New York State Commission on National and Community Service. The Division of Veteran Affairs will use more than 80 Veterans Affairs offices throughout the State to serve as Veteran Volunteer Recruitment Centers to help veterans who are looking for opportunities to serve the public.
Now that the initiative has been launched since its establishment in the New York State Office for New Americans in 2013 to assist newcomers, Veteran volunteers will connect and offer their time to volunteer opportunities to include:
· Helping a New American use a computer or tablet device to practice English in an in-class or computer language laboratory setting.
· Conducting or participating in a one-on-one or group conversation practice group based on classroom instruction.
· Conducting mock testing sessions for new Americans on the U.S. civics component of the naturalization exam.
· Assisting with installation of the U.S. Civics phone app on a client's cell phone.
· Providing logistical support during naturalization drives.
The goals of this new initiative is to focus on supporting on participation to help Veterans transition to civilian life, advance their military skills into the competitive workforce, and use their experiences and world knowledge to connect with people in diverse communities.
"I applaud Governor Cuomo for rallying our State's veterans, and all New Yorkers, to support our New American neighbors," said New York Secretary of State Cesar A. Perales. "This initiative will showcase the very best that our State has to offer – a spirit of volunteerism, dedication to our fellow New Yorkers and the involvement of our U.S. veterans who are heroes in every respect."
"We are proud to work with the Office for New Americans on this important new endeavor," New York State Division of Veterans' Affairs Director Eric J. Hesse said. "We welcome this opportunity to connect individuals seeking American citizenship with the men and women whose service and sacrifice continually preserves the rights and ideals at the core of our Nation's existence."
"We salute those veterans who will volunteer to assist our friends and neighbors as they adjust to their new lives as New Yorkers," said Linda Cohen, Executive Director of the New York State Commission on National and Community Service – New Yorkers Volunteer. "Their continued service, when they have already given so much, exemplifies the good citizenship and lifelong commitment to helping others that are core values of our State."
"New Yorkers have a tremendous history of coming together and I encourage our State's Veterans to volunteer to welcome newcomers into the family of New York," said Deputy Secretary of State Jorge I. Montalvo, who oversees the New York State Office for New Americans.
"We applaud the Governor's new initiative, which continues the State's efforts to integrate New Americans," said Steven Choi, executive director of the New York Immigration Coalition. "This initiative will provide a valuable opportunity for veterans to help immigrants, while also honing their own skills as they re-integrate into society."
"As we look across the growing movement of welcoming communities, we take inspiration from New York's leadership," said Welcoming America's Executive Director, David Lubell. "I cannot imagine a more patriotic tribute to our nation than to bring together New Americans and veterans in shared service to our country, and to our communities."
"The Mission Continues is proud to be a part of this effort with Governor Cuomo and the Office for New Americans," said Aaron Scheinberg, Executive Director - Northeast, The Mission Continues. "As a national veterans nonprofit dedicated to empowering veterans to serve at home, we believe that veterans have the skills, leadership, and desire to help others. New Americans are key to our future as a country, and veterans can play a large role in welcoming, mentoring, and inspire them to become active citizens."
As reported by Governor Cuomo's office, "This new initiative continues the Governor Cuomo's efforts to help immigrants fully participate in New York State's civic and economic life." "Previously, the Administration suspended participation in the federal Secure Communities program when concerns were raised about the implementation of the program, as well as its impact on families, immigrant communities and law enforcement in New York. The Governor also issued Executive Order 26 requiring State agencies that provide direct public services to offer free interpretation and translation services to members of the public for vital forms and instructions."
The New York State Office for New Americans is the first state-level immigrant office to create a statute. The cornerstone effort in the creation of 26 neighborhood-based Opportunity Centers located throughout New York State are immigrants who are assisted with English-for-Speakers-of-Other-Languages training; naturalization and DACA assistance; federal immigration law and policies information and referrals; and business development training. According to the Governor's office, recently, the Governor launched a pilot program to provide free English-language training via mobile phones to hundreds of immigrants in New York State who may lack regular access to a classroom, a computer or the Internet.
Additional news available at www.governor.ny.gov
Share: