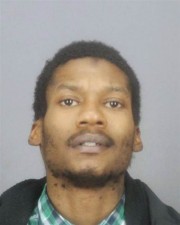 Governor Andrew Cuomo and the Assistant Attorney General for National Security and the U.S. Attorney's office announced yesterday that the arrest of 25-year-old Emanuel Lutchman made an attempt to provide material support to the Islamic State group or ISIL. Virginia Butler released a statement to Governor Cuomo via Time Warner Cable News yesterday to discuss the arrest in an interview for the public. Lutchman had ties to an overseas terror group that planned to attack New Year's Eve.
New York -- The arrest of Emanuel Lutchman, 25, an ex-con Muslim convert with apparent mental health issues, was made for alleging to plot a New Year's Eve machete attack on diners at a local restaurant in the name of ISIS. The FBI stated that Lutchman held talks overseas with ISIS members during the Christmas holidays to plan a plot against Rochester residents. Lutchman, who lived in with his grandmother, possessed a psychiatric history since childhood and it was noted that he also served a five-year prison sentence for robbery. His grandmother released a statement regarding her grandson, stating that "I believe my grandson was set up..." However, on December 28th, an informant revealed that Luthman was planning to kidnap and kill a couple of people at a local club or bar.
Governor Andrew Cuomo released a statement yesterday via a call-in into Time Warner Cable News stating:
"The arrest of Emanuel Lutchman is an important reminder of the new normal of global terrorism. Today law enforcement did their job well – but the challenges we face have never been greater, and it is incumbent on every citizen to be diligent and responsible. I want to reassure all New Yorkers and our state's visitors that we are taking every precaution to keep people safe, and are in regular contact with our partners in both the federal government and local communities, statewide. I commend the Department of Justice as well as the FBI's Rochester area Joint Terrorism Task Force, including the State Police, for their hard work and diligence in preventing this possible attack."
Governor Cuomo also reminded the public to keep their eyes open and notify law enforcement if you see or hear another.
Share: