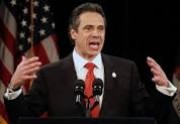 Governor Andrew M. Cuomo has announced that he will address delegates in the Puerto Rican Healthcare crisis along with other New York officials. The Puerto Rican governments are currently undergoing a major healthcare crisis that has affected their economy by challenging Washington, D.C. to act at once! An invitation by Puerto Rican Governor, Alejandro Garcia Padilla was extended for 9/8/2015.
According to Governor Cuomo, "New York and Puerto Rico have a special relationship bound by heritage, history, culture and family - and when times are tough we stand side by side and offer whatever help we can." The Governor goes on to mention the sustainable livelihoods of Puerto Ricans who are threatened by the non-existence of health coverage forced upon the citizens due to a lack of appropriate budgeting.
The formation of delegates to join Governor Cuomo will include New York City Council Melissa Mark-Viverito, Attorney General Eric Shneiderman, Assembly Speaker Carl Heastie, Bronx Borough President Ruben Diaz, Jr., New York City Comptroller Scott Stringer and Congresswoman Nydia Velazquez, and members of the Governor's administration with expertise on Medicaid redesign and fraud. Others will join the largest population of Puerto Rican people, which is approximately 5 million to date in the mainland of the United States.
For more news on this story please visit: www.governor.ny.gov or call 518-474-8418
Photo Credits By: AP Photo/Mike Groll
Share: