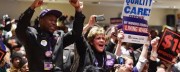 Governor Cuomo launches a new push to make New York the first state in the nation to enact a $15 minimum State University Minimum Wage System this coming year. There will be 28,000 employees on the agenda to earn the first signature proposal to restore economic justice by signing 2016 increase for SUNY employees in a phased-in schedule for fast food workers.
New York -- Governor Andrew M. Cuomo announced in a press release yesterday that a signature proposal of his 2016 agenda will push to restore economic justice by making New York the first state in the nation to enact a $15 minimum wage for all workers. The unveiling highlighted the State University of New York raising the minimum wage for more than 28,000 employees, as well as State Workers announced in October.
At a rally in New York City, the Governor also announced that he will join US Secretary of Labor Thomas E. Perez, Actor Steve Buscemi, 1199 President George Gresham, 32BJ President Hector Figueroa, Attorney General Eric T. Schneiderman, NYC Comptroller Scott Stringer, NYC Public Advocate Letitia James, more than 40 state and local elected officials, union leaders, clergy members and other advocates to kick off the campaign for his $15 all-industry minimum wage proposal.
Governor Cuomo stated, "This state thrives when every New Yorker has the opportunity and the ability to succeed. Yet the truth is that today's minimum wage still leaves far too many people behind -- unacceptably condemning them to a life of poverty even while they work full-time." "This year, we are going to change that. We are going to raise the minimum wage to bring economic opportunity back to millions of hardworking New Yorkers and lead the nation in the fight for fair pay."
U.S. Secretary of Labor Perez stated, "We're in the middle of the longest streak of private-sector job growth on record, but there are still too many Americans who haven't enjoyed a bigger slice of the pie they're helping to grow." "President Obama and I believe in the basic proposition that if you work full-time in America, you shouldn't have to raise your family in poverty. That is why I applaud Governor Cuomo, the SEIU, and workers for coming together to advocate for an increase in the minimum wage for all New Yorkers. In the absence of congressional action, state and local leaders nationwide are raising their minimum wages to ensure that everyone earns a fair day's pay for a hard day's work. President Obama and I will continue to support workers who are struggling to make their voices heard. We will keep fighting for policies that create shared prosperity and an economy that works for everyone, not just a fortunate few."
A regional breakdown of the more than 28,000 SUNY employees who will benefit from this increase is below:
· Western New York: 5,833
· Finger Lakes: 2,989
· Southern Tier: 2,960
· Central NY: 4,106
· Mohawk Valley: 1,768
· North Country: 2,196
· Capital Region: 1,985
· Mid-Hudson Valley: 2,188
· New York City: 598
· Long Island: 3,918
A regional breakdown of the number of individuals in all industries in New York State currently earning less than $15 an hour is below:
· Capital: 144,415
· Central NY: 98,689
· Finger Lakes: 166,398
· Hudson Valley: 281,104
· Long Island: 382,236
· Mohawk Valley: 54,757
· North Country: 43,423
· Southern Tier: 77,291
· Western NY: 187,187
· New York City: 927,400
· Total: 2,362,900
Governor Cuomo has also successfully increased the minimum wage for fast food workers and tipped workers, which took effect on Dec. 31, 2015, and for workers in all industries in 2013, which first took effect on Dec. 31, 2013.
Full List of SUNY Campuses Impacted below:
· Albany
· Alfred State
· Binghamton
· Brockport
· Buffalo State
· Canton
· Cobleskill
· Cortland
· Delhi
· Downstate Medical Center
· Empire State
· ESF
· Farmingdale
· Fredonia
· Geneseo
· Maritime
· Morrisville
· New Paltz
· Old Westbury
· Oneonta
· Optometry
· Oswego
· Plattsburgh
· Potsdam
· Purchase
· Stony Brook
· SUNY Poly
· System Admin
· University at Buffalo
· University-wide Programs
· Upstate Medical University
Governor Cuomo has marked the success of minimum wage for fast food workers and tip workers as of December 31, 2015. New York State will lead by example and raise all state workers with minimum wage to $15 an hour. Approximately, 10,000 State employees will benefit from this announcement and the increase will phase-in on the same schedule for New York, the cities of Syracuse, Rochester and Buffalo for public employees.
Share: