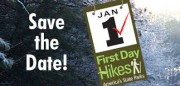 News
•
updated: Dec 19, 2015
Governor Andrew M. Cuomo announced that Families can now celebrate the New Year enjoying the outdoors for the fifth annual First Day Hikes program at New York State Parks and Historic Sites. The program will take place at 38 state parks and historical sites beginning on January 1st for all First Day Hikes to people of all ages to enjoy nature during the guided walks.
New York -- Governor Cuomo announced his First Day Hikes program for all New Yorkers yesterday. New Years Day will kick off the hikes at the Rockefeller State Park Preserve, and approximately 2 miles of moderate terrain will pave paths within several of the hard segments. The walk is also designed to accommodate children 10 and under. Pre-registration for this event is not required and due to the location of this kickoff participants are actively encouraged to dress warmly near the Hudson River.
Governor Cuomo stated, "The natural beauty of New York State makes the perfect backdrop for welcoming in 2016 with family and friends." "I encourage everyone to start a new tradition and take a First Day Hike at their local state park or use the occasion to discover a new favorite."
First Day Hikes offers excellent connections to the outdoors, exercise and enjoyment of nature and participants can expect to be surrounded by the beauty of the season. State park staff and volunteers will be available to lead these family-friendly walks and hikes up to three miles or longer.
New York State Office of Parks, Recreation and Historic Preservation Commissioner Rose Harvey said, "We are proud to once again host the First Day Hikes and offer these popular outdoor events for the New Year. For 2016, we're offering more inspiration than ever for people of all ages and interests from lakeside trails to spellbinding views of a gorge, centuries of military history, and treks through woods or waterfronts. So start off the year with a healthy hike and set the stage for enjoying the parks year-round."
National Association of State Park Directors Executive Director Lewis Ledford said,"America's State Parks provide havens for young and old alike to explore the beauty and serenity of nature through outdoor recreation. Hiking offers inspiring ways to improve your physical and mental health, while discovering beautiful public lands in every state."
National Park Service Northeast Regional Director Mike Caldwell said, "We hope folks will add "get outdoors more" as one of their New Year's resolutions! The First Day Hikes make it easy to kick off 2016 by doing just that. The National Park Service is proud to support these hikes in our centennial year as part of the Find Your Park national effort to encourage people to go outdoors and into parks."
The New York hikes will be offered at the following locations:
Western New York
Allegany State Park- Red House, Salamanca, anytime 10 a.m.- 2 p.m.; 716-354-9101 x.236
· Buffalo Harbor State Park, Buffalo; 10 a.m.-12 noon; 716-549-1050
· DeVeaux Woods-Whirlpool State Park, Niagara Falls; 11 a.m.-12:30 p.m.; 716-285-5154
· Fort Niagara State Park, Youngstown; 1:30 p.m.–4 p.m.; 716-285-5154
· Genesee Valley Greenway State Park, York; 10 a.m.; 585-493-3600
· Knox Farm State Park, East Aurora; 11 a.m.-1 p.m.; 716-549-1050
· Letchworth State Park, Castile; 1 p.m.; (two hikes - one for families with young children); 585-493-3600
· Niagara Falls State Park, Niagara Falls; 1 p.m.-3 p.m.; 716-285-5154
Finger Lakes & Central New York
· Betty and Wilbur Davis State Park, Westford; 1 p.m.; 607-638-5421
· Catharine Valley Trail, Watkins Glen; 10 a.m.; 607-535-4511
· Chenango Valley State Park, Chenango Forks; 12:30 p.m.; 607-648-5251
· Clark Reservation State Park, Jamesville; 1 p.m.; 315-492-1590
· Fort Ontario State Historic Site, Oswego; 10 a.m.; 315-343-4711
· Taughannock Falls State Park, Trumansburg; 1 p.m.; 607-387-7041
· Two Rivers State Park, Waverly; 10:30 a.m.; 607-273-3440
North Country & Greater Capital District
· Mine Kill State Park, North Blenheim; 11 a.m.; 518-827-8690
· Moreau Lake State Park, Gansevoort; 10 a.m.-12 noon; 518-793-0511
· Peebles Island State Park, Waterford; 10 a.m.; 518-268-2188
· Point Au Roche State Park, Plattsburgh; 1 p.m.; 518-561-4213
· Sackets Harbor Battlefield State Historic Site, Sackets Harbor; 12 noon; 315-489-3642
· Saratoga Spa State Park, Saratoga Springs; 10 a.m.; 518-584-2000
· Schodack Island State Park, Schodack Landing; 1 p.m.; 518-732-0187
· Thacher State Park, Voorheesville; 10 a.m.; 518-872-0800
· Wellesley Island State Park, Fineview; 1 p.m.; 315-482-2479
Hudson Valley
· FDR State Park, Yorktown; 11 a.m.; 914-245-4434 x8
· John Jay Homestead State Historic Site, Katonah; 1 p.m.; 914-232-5651 x 105
· Minnewaska State Park Preserve, Peter's Kill, Kerhonkson; 9:30 a.m.-12:30 p.m. & 2 p.m.-5 p.m.; 845-255-0752
· Minnewaska State Park Preserve, Sam's Point, Cragsmoor; 9:30 a.m.-12:30 p.m. & 2 p.m.-5 p.m.; 845-255-0752
· Olana State Historic Site, Hudson; 11 a.m.; 518-828-0135 x303
· Rockefeller State Park Preserve, Pleasantville; 9 a.m.; 914-666-6503
· Sterling Forest State Park, Tuxedo; 11 a.m.; 845-351-5907
· Taconic State Park - Copake Falls, Copake Falls; 1 p.m.; 518-329-3993
· Walkway over the Hudson State Historic Park; Poughkeepsie; 2 p.m.; 845-454-9649
New York City and Long Island
· Bethpage State Park, Farmingdale; 10 a.m.; 516-249-3560
· Clay Pit Ponds, Staten Island; 11 a.m.; 718-605-3970 x201
· Connetquot River State Park, Oakdale; 1:30 p.m.-3 p.m.; 631-581-1072
· Jones Beach State Park, Wantaugh; 1:30 p.m.-3 p.m.; 516-785-3614 or 516-780-3295
· Montauk Point State, Montauk; 1 p.m.-3 p.m.; 631-668-2554
If you need more details about hike locations, difficulty and length, terrain, registration requirements and additional information are listed at nysparks.com.
Share: