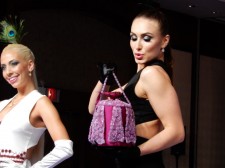 News
•
updated: Aug 8, 2018
New York Fashion Week begins next month Friday, September 6th, and ends Thursday, September 14th. The official elite crowd of New Yorkers step out to experience one of New York's most famous, A-list, billion dollar industry of Art and Entertainment worldwide. International Collections are shown and purchased to buyers, the general public, and the press.
NYC Press Release - For those that miss the Pussy Cat arousal concept shopping experience during New York Fashion Week, a new online experience with a new set of game players has hit the sea of thieves. What better way to pick up a bargin and hold a conversation with your customers by setting up the ultimate shopping experience online. Some of the most elite heavy hitters in the business on of .com are embracing the press by offering a luxury shopping experience within the face-to-face catwalk sale. Although that elite customer may miss the orgasmic experience of world-class entertainment and bare all top model exclusions, the calendar can be rearranged to penetrate the Fashion World using the power of plastic Finance.
Some of the most desired Collections from last seasons show and this upcoming seasons show can now be found in a virtual experience right at your front door today. An exclusive invitation to be a part of the who's who crowd of Fashion is available for your best Art, Design, and Culture with benefits from the "Know" private experience . Get Social with some of last seasons "catwalk hits" and like carry your secrets in a bag.
Share: