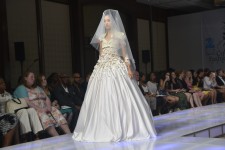 Mira Indria sets a comprehensive strategy on the catwalk for tourism this season at the 24th season of Couture Fashion Week NYC presented by Zee Entertainment Television. Couture Bridal is a new Jakarta initiative in Indonesia that using a four quadrant sustainable value framework to connect internal and external efforts of Indonesian dialogue to communicate festivals of media, news, blogs, people, public relations, and twitter into what is happening for future investments.
New York City ~ Couture Fashion Week NYC presented by the new partner in the Fashion Press Syndicate, Zee Entertainment, was held at the Crowne Plaza Times Square Manhattan, 1605 Broadway Ballroom during September 9 - 11, 2016. Future directions were set on the runway of heavy hits under the direction of Producer, Andres Aquino, as he displayed widely recognized languages in a next generation language strategy of Couture Bridal Gown Collections by Indonesian Designer, Mira Indria. Every child dreams of getting married under the Indonesian culture and a new Child Marriage Initiative was created in 2015 Internationally called "Girls Not Brides" relates stories of drivers in change as a socioeconomic factor surrounding girls who live in poverty, economic dependency, financial incentives and dowry practices that lack education and health services. Research from the plan examines stigmas of Indonesian women and their sexual experience outside of marriage which includes sexual abuse.
Since the 1974 Marriage Law in Indonesia, the minimum legal age for a girl to get married is 16 with a parents consent. Since 2014, grassroot organizations have challenged the youth movement called "Koalisi 18+" to change the minimum age of marriage in Indonesia and make it a Constitutional Court issue which was heard in June 2015. It is a stolen childhood for a girl to bear a child at a young age without dreams and futures to fuel the Indonesian economy and reports of evidence-based in Asia is issued in report after report using sex discrimination to end sex abuse.
Since 2005, Andres Aquino, Producer of Couture Fashion Week has worked diligently to set the quadrant to connect Social Justice causes using professional photographers, creative photographers, innovators, performers, and de facto Native American cultural experts to join his dissemination of thought under his presentation of fashion and style to diverse dialogue. The Indonesian Designer, Mira Indria spoke to the elite using her next generation of Bridal Fashion to manage a crisis of change into a luxury of beauty presented well.
Share: