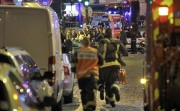 News
•
updated: Nov 15, 2015
According to a CNN report, President Francois Hollande has declared the Paris bombings "an act of war" and authorities have made a number of arrests in the series of terror attacks that killed more than 120 people. ISIS has taken full responsibility in the Paris attacks and France has vowed revenge for the shootings and bombings.
(Source: CNN) -- According to a source, there has been at least one raid responsible in the connection of the Paris attacks. The French and Belgian intelligence services have stated that the other raids were connected to individuals known to Belgium intelligence. One person has been taken into custody and two other men have been detained by police resulting from a police raid to into their homes.
The suicide bomber in Friday's attacks was one of three wearing a suicide belt and has been identified as Ismael Omar Mostefai and lived in Chartres since 2012. Another terrorist, a 29-year-old French national from Courcouronnes lived in the southern suburbs of the city. Sources stated that the individual involved in the attacks on the concert hall possessed a criminal history with prior radical behavior since 2010. At least 80 people have been killed in the concert hall attacks in addition to 129 people killed in Paris and 352 injured. On the 352 injured, there were 99 people seriously injured. The victims killed by the seven terrorists were assassinated with assault rifles.
There was one American dead amongst the 129 people, and the identified victim has been named as Nohemi Gonzalez, 23, of El Monte, California who was a student at California State University, Long Beach. The other victims killed were three Chileans, two Belgiums, two Mexicans, two Spaniards, one from Portual, one from the United Kingdom and many French citizens. No update on the other Nations of citizens killed in the terror.
Share: