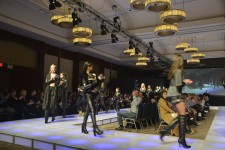 News
•
updated: Feb 12, 2018
Manufactured in Brooklyn, New York, Funari Activewear makes a bold statement at the Couture Fashion Week audience with street culture, history, dance, yoga, the echo of Brooklyn music culture, and complete functional Eco-friendly clothing pieces. The new Lifestyle collection by Designer, Janelle Funari is now for the couture woman that searches for a brand with class and quality.
New York City - Designer, Janelle Funari announces Funari Performance to the Couture Fashion Week catwalk with bold workout gear collections of full jackets, bras, leggings, shorts, and tops. The activewear is manufactured in Brooklyn and made in none other than New York City with strategic panels and cuts that allows your skin to breathe as it is worn.
The story of Janelle Funari is an easy one because the designer of the Organia Collection of 2004 moved to the big Apple for love, true beginnings, and fierce designs that grab celebrity attention. Ms. Funari formerly worked as a Target stores Designer and Implemented, Sweet Pea & Eberjey Intimates. The Orangia Collection was later launched featuring contemporary dresses, children's sportswear, and a Bridal collection that sold to Neiman Marcus, and worn at red carpet events by celebrities, which sold globally.
Janelle's origins began with her grandmother, a NYC born Rockettes Dancer, who traveled the world. From Janelle Funari's experiences the fashion capital of NYC, the overwhelming inspiration of her grandmother led the romance of timeless pieces.
Janelle Funari stated, "As fashion fades & time moves on, we evolve as a society…. My goal is to captivate and cultivate pieces that will bring love and confidence, allowing me to share special once in a lifetime moments with my clients."
Fashion is a her stage, and her clothing is her voice!
Share: